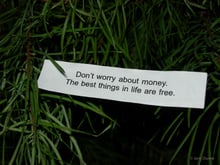 New Year's resolutions are all about improving yourself and being the best person that you can be. Most goals fit into one of three categories: personal success (money), priorities (family) and health. Let me show you how focussing on kindness to others, reducing material excesses and embracing your local neighbourhood can play a part in some of the best green resolutions. There are ways to live gently on the earth, while saving dollars and expressing your gratitude for all that you have, by giving back to your community and setting green goals for the year.
Find Your Calling
Let this be the year where you discover what you really enjoy while volunteering for your favourite local charity. Volunteering for a green cause allows you to try out new activities and uncover novel ways to tackle challenges just by giving a few hours of your time. This coming year, open yourself up to new volunteering opportunities at your local fish hatchery, tree planting group, shoreline cleanup (such as the Great Canadian Shoreline Cleanup or the California Coastal Cleanup), trail maintenance club, or a watershed or stewardship group. You never know what you will find out about yourself, how much you can help your community and how good it feels to know you're making a difference, until you sign up to be a green volunteer.
Be the Change
It turns out that Mahatma Gandhi never said the words, "be the change you want to see in the world," however, he did say, "If we could change ourselves, the tendencies in the world would also change. As a man changes his own nature, so does the attitude of the world change towards him. ... We need not wait to see what others do." When looking for inspirational quotes, as you come across words that push you in the direction that you want to go, follow your instinct and do not wait to be prompted to make a change that you feel will benefit the earth. There may be no one actually asking you to (or watching you) take steps to reduce your carbon footprint, but why does anyone need to ask or see your efforts?
COP21 enlightened many people on the importance of reducing greenhouse gases on the planet and will serve as a muse for many people through 2016. In your own life, this may take the form of setting goals to put down the car keys 25 times in the year to convert what would have been a car trip into a walk or bike trip. Many short car trips can be converted into pleasurable cycles or reasons to exercise, and you feel so much more a part of things when you are at ground-level rather than riding along separate from everyone else. Or why not set a goal to try transit instead of driving? Plenty of cities have really difficult parking policies, such as meters that have 2 hour maximums when you're going to dinner and a movie, so give your local bus or metro/skytrain a try, while saving a few dollars and a whole lot of parking hassle.
Or, perhaps, you will promise yourself that for the entire year you will remember your reusable coffee mug every time you go to the coffee shop. CBC's Marketplace says that Canadians drink about 1.5 billion disposable cups of coffee a year, which is over half a million trees' worth, and recently uncovered that as much as 40% of the "recycling" bin contents are diverted to the landfill in places like Toronto and other big cities in Canada. Whenever organic matter (yes, paper is "organic matter") goes into the regular garbage stream, it can end up in a landfill where organics will decompose without oxygen, which creates greenhouse gases (namely methane and carbon dioxide) that contribute to global warming.
Another way to translate your concerns about waste into action is to decide this is the year you will no longer buy any bottled water (it doesn't cost much to get a reusable metal bottle – you might even get one free on a freecycling website). And speaking of freecycling, why not set a goal to give away 10 items that you do not use around your home this year on a local website. For others who want to go further with their goals, you could decide to buy all of your clothes in a consignment store for the year, shrinking your impact by not supporting clothing that is shipped halfway around the world in a polluting cargo ship or possibly created in a factory without environmental standards.
Green Karma
Who doesn't love hearing about a random act of kindness? We all do. How can this be part of the greening of your New Year's Resolutions? I'll just make one suggestion on this much-loved subject and then let you devise your own creative goals. One way to let your kindness shine through, while being green at the same time, is to offer to take an elderly neighbour to the grocery store with you (you'll save them the cab fare, there will be one car trip instead of two, and you'll feel good helping someone out). What comes around goes around, and if you're lucky enough to live to old age, then one day you may come to be thankful for thoughtful young folks who do the same for you.
Places for Inspiration
Looking for experiences to stimulate more goals? Not many people think of it, or maybe know about it, but many recycling facilities and power sites provide educational tours for the public or for school groups. In British Columbia we are fortunate to have a number of hydro dams that you can visit to learn about how electricity is generated. At other centers around the country you can learn about anaerobic digestion, how computers get recycled and how your garbage becomes compost or methanol. I know some of you may be thinking that this idea stinks, but consider this experience as being like chiaroscuro: when appreciating a great painting we are most drawn to the works that aren't just light, they are a bit dark too! So for those of you interested in the gritty realities of where your trash goes and who want more motivation to keep going with composting and recycling, these tours are a must for you in 2016.
Grow Your Own
Decide to grow two edible plants you've never grown before in 2016. This will bring satisfaction, dollar savings, and deliciousness to your table. You could also pick one food that you buy ready-made and use the internet to find ways to make it yourself. How does this help you in making green goals? Because there's so much less packaging and there are no unnatural ingredients when you make it yourself, besides it's so satisfying to know you can put together your own lasagne, chicken pot pie, salad dressing or cabbage rolls.
Bring on 2016
Track the changes you make in a journal and over the years you can look back and see just how far you've come. In previous years you may have made resolutions about a different kind of "green," but this is 2016, and as a fortune cookie once revealed to me: "Don't worry about money. The best things in life are free."
Jane Dunne is a Senior Editor for Specialty Technical Publishers. She works on a diverse catalogue of environmental publications that are recognized across North America as effective tools to ensure regulatory compliance with complex requirements.