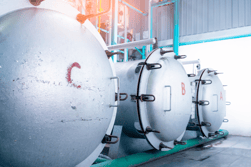 The COVID-19 pandemic has impacted all industries to some degree over the past year. With offices shut down, and some workforces working remotely, many offices have been left vacant. At the beginning of the pandemic, food and beverage and consumer goods manufacturing facilities were temporarily shut down or production was significantly reduced. Restaurants and retail facilities were closed or transitioned to online ordering and pick-up. Only critically essential services and operations managed to stay open.
At many of these facilities, Aboveground Storage Tanks (ASTs) and/or Portable Containers (drums/totes) are used for oil or fuel storage critical to operations. If these facilities meet the criteria indicated below, then the facility must prepare and implement a Spill Prevention, Control, and Countermeasure (SPCC) Plan according to the Federal Oil Pollution Prevention regulation 40 CFR part 112.
Many of the facility changes brought about by the COVID-19 pandemic could affect the status of SPCC regulated tanks and containers. It is important that these changes, which could materially affect the facilities potential for discharge of oil, be captured in the facility SPCC Plan within the required timeframe.
The SPCC plan amendment must also include revisions to the facility's SPCC diagram capturing the appropriate changes. The regulation states that you have to "describe the physical layout of the facility and include a facility diagram, which marks the location and contents of each fixed oil storage container and the storage area where mobile or portable containers are located. The diagram must include completely buried tanks, transfer stations, and connecting pipes. (40 CFR 112.7(a)(3))."
The SPCC rule applies to facilities that:
Have an aboveground oil storage capacity of 1,320 U.S. gallons or more (in containers which are 55 gallons or greater), or a completely buried oil storage capacity of 42,000 U.S. gallons or greater;

Could reasonably be expected to discharge oil to navigable waters or adjoining shorelines in quantities that may be harmful; and

Are non-transportation related.
You, as the owner/operator of a SPCC regulated facility, and as part of your associated SPCC plan, "shall amend the SPCC Plan whenever there is a change, which materially affects the facility's potential for discharge. Such amendments shall be prepared within six months, and implemented as soon as possible, but not later than six months following preparation of the amendment. (40 CFR 112.5(a)).
These 'technical' changes can include but are not limited to:
New tank/container construction or reconstruction,

Temporary containment area or change to containment,

Tank/container decommissioning, dismantling, or moving,

Bringing an empty tank back online,

Changes in bulk liquid products handled,

Pipe or pipe way changes,

Updates to tank inspection or maintenance procedures
In addition, SPCC Regulations require that for facility changes of this 'technical' nature, the amended SPCC Plan must be certified by a licensed Professional Engineer (PE) (40 CFR Part 112.3(d)).
Learn more and stay up-to-date on SPCC requirements here.
For more information on these issues, we encourage you to reach out to Antea Group.
---
About the author
Antea Group is an international engineering and environmental consulting firm specializing in full-service solutions in the fields of environment, infrastructure, urban planning, and water. By combining strategic thinking and multidisciplinary perspectives with technical expertise and pragmatic action, we do more than effectively solve client challenges; we deliver sustainable results for a better future. We serve clients ranging from global energy companies and manufacturers to national governments and local municipalities.
Antea Group's EHS&S services are categorized into six main practice areas including:
Although Antea Group has clients in a variety of industries, the primary industries they focus on include: