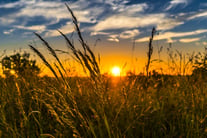 Beginning July 1, 2020, California's Division of Occupational Safety and Health (usually called "Cal/OSHA") oversees requirements for workplace lighting to assist and protect employees who perform agricultural work outside at night. These include requirements for lighting to illuminate work activities and the workers themselves, including operation of front and rear lights on vehicles. Although these new requirements only apply directly if your organization employs agricultural workers in California, any other organization whose workers are active outside at night should compare its measures to these new standards.
What lights must vehicles operate?
The new standards apply lighting requirements to all tractors, self-propelled farm equipment, and trucks used between sunset and sunrise (8 Cal. Code of Regs. (CCR) 3441(g)). Each must be equipped with:
at least one headlight, which shall be used to illuminate the area in front of the equipment or truck at least 50 feet.

at least one rear light to illuminate equipment at the rear

additional lighting, where the operation requires field adjustment or the operator's attention.
While most on-road vehicles require such lighting and should be in compliance if they're used, off-road tractors and other equipment may require retrofits to meet these requirements. Within California, this provision revises existing standards to expressly add "truck", and to extend the former applicability to one hour after sunset and one hour before sunrise.
What lighting requirements apply to work areas?
The standards require adequate illumination, and provide a table of foot-candle (fc) and lux levels required for different types of operations, with the following (8 CCR 3449(a)):
poultry harvesting or catching – 0.09 – 0.19 fc (1-2 lux)

meeting, meal and rest areas – 3 fc (32.29 lux)

pathways, and outdoor operations not otherwise specified – 5 fc (53.82 lux)

intermittently exposed or exposed points of operation (i.e., subject to point of operation guarding requirements), or using tools that can potentially cause cuts, lacerations or punctures – 10 fc (107,64 lux)

maintenance work on equipment -- 20 fc (215.3 lux)
By comparison, general guidelines for office lighting include 20 fc for general use, and 50 fc for reading and detailed tasks. The new standard also includes an explanatory appendix with information about how to define and measure lighting.
The standards also apply that the lighting be applied:
by hands-free or area lighting

set up to minimize glare to the workers
What protective clothing is required?
Employers must provide, and require workers to wear, high visibility garments (Class 2, meeting general Cal/OSHA standards and ANSI standard 107-2015) for working between sunset and sunrise (8 CCR 3449(c)).
What safety meetings are required?
Employers must conduct a safety meeting at the beginning of each shift in order to inform employees of the location of the restrooms, drinking water, designated break areas, and any nearby bodies of water and high traffic areas (8 CCR 3449(b)).
What now?
Employers with night-time agricultural operations in California must now be accomplishing compliance. Employers elsewhere who employ anyone who works outdoors at night should evaluate the lighting levels and protective measures provided for such work – for example, many non-agricultural locations routinely receive, transfer or send materials at night, and night-time maintenance or incident response activities sometimes occur as well.
Self-Assessment Checklist
Does the organization employ workers who work outside at night?
If so, has the organization evaluated the following, to confirm whether its activities provide adequate safety precautions for these workers:
vehicle lights

ambient and work-station lighting

reflective gear for workers

training
Where can I go for more information?
About the Author

Jon Elliott is President of Touchstone Environmental and has been a major contributor to STP's product range for over 30 years.

Mr. Elliott has a diverse educational background. In addition to his Juris Doctor (University of California, Boalt Hall School of Law, 1981), he holds a Master of Public Policy (Goldman School of Public Policy [GSPP], UC Berkeley, 1980), and a Bachelor of Science in Mechanical Engineering (Princeton University, 1977).

Mr. Elliott is active in professional and community organizations. In addition, he is a past chairman of the Board of Directors of the GSPP Alumni Association, and past member of the Executive Committee of the State Bar of California's Environmental Law Section (including past chair of its Legislative Committee).
You may contact Mr. Elliott directly at: tei@ix.netcom.com
Image by FelixMittermeier from Pixabay