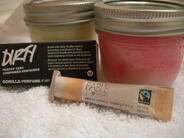 Ever felt guilty about how you can't recycle the plastic of a toothpaste tube and then considered how everyone you know uses them and throws them away? Ladies, have you ever thought about how many years your lip balm or lipstick container will remain on the earth after you are done with it? Environmental packaging options for these items has been stagnant (or non-existent, in fact) for quite some time, but I am happy to say that there are options out there and you just have to know where to look.
Where Does the Packaging Go?
Can you picture 400 million toothpaste tubes stacked up in a pile for the landfill? Well, 400 million is the approximate number of how many tubes of toothpaste are discarded every year in the United States. That number is staggering considering that it only covers one country's waste for that type of packaging. Some people may think that the tubes are recyclable, and they could be if they were made of only one material, such as aluminum or all plastic, however, toothpaste is packaged with a mix of different materials. Most curbside recycling programs do not accept these tubes. Plastic is not biodegradable and can take anywhere from 500 to 700 years to break down.
According to the non-profit organization, As You Sow, Colgate-Palmolive has pledged to phase out non-recyclable packaging in three of four operating divisions by 2020, and to use 50% recycled content in packaging. The company also has plans to conduct research into making the first recyclable toothpaste tube.
Some toothpaste products are not only packaged with plastic, but also contain plastic in the form of polyethylene microbeads. This caused a lot of controversy during 2014 and Crest brand products are expected to be free of polyethylene microbeads by the spring of 2016.
Discarded lipstick tubes contribute to the 12 percent of solid waste that is composed of plastic in the U.S. Many lipsticks also contain petrochemicals and lead acetates, which aren't healthy for you or the planet and improper disposal of those lipsticks contaminates landfills and groundwater (Campaign for Safe Cosmetics). Relatively few companies have programs where they take back empty containers and provide discounts after a set number of container returns, but they do exist.
It was recently estimated that roughly 8 million tons of plastic ends up in the ocean annually (Science, February 13, 2015). A large part of the problem is littered waste, but it's worth considering how a switch from using plastic goods that require landfilling or specialized recycling to ones that are biodegradable, compostable or zero-waste could reduce the possibility of polluting land and sea.
It's What's Inside That Counts
Is it what's inside that counts or should we be paying more attention to how our products are packaged? Lately I have been disconcerted thinking about the vastness of waste that comes from something we all need to do: brush our teeth. I started digging around on the Internet trying to find a product that doesn't involve a plastic tube. After a bit of searching I was able to find a product made by LUSH that is "toothpaste without the tube." The product is called "Toothy Tabs," comes in different flavours, and can be ordered online. I tried these tablets myself, which come in a paper box, and was pleased to discover that the product actually makes your teeth feel cleaner than your regular run-of-the-mill plastic-tubed paste. Not only was I impressed with the packaging, the product met my requirement that it needs to work.
My next challenge was to find something to stop my chapped lips that didn't involve 500 to 700 years of petrochemical degrading after my few months of using the product. It did not take long before I found Fable Naturals that is made in Vancouver, BC and can be ordered online. I ordered a Vanilla-Orange Vegan Lip Balm that comes in a 100% compostable tube. I have felt proud to use something that showcases its use of sustainable packaging every time I coat my lips.
Craft it Yourself
What's better than compostable or sustainable packaging? Craft your own toothpaste or lip balm in a container that you already have in your home. Ancient Greeks and Romans made their own toothpaste with added abrasives such as crushed bones and oyster shells. Back in the 15th century, the Chinese are believed to have invented the first natural bristle toothbrush made from pigs' neck bristles attached to a bone or bamboo handle, but you really don't have to get that down-and-dirty to craft your own toothpaste or tooth powder.
In 19th century Britain, the making of tooth powders at home was common and mostly used chalk, pulverized brick, or salt as ingredients. Toothpaste didn't come in a tube until 1896 when Colgate & Company Dental Cream got the idea from seeing paint sold in tubes. These first tubes were unfortunately made of lead. Can you imagine? Bricks and lead? We've come a long way and learned a few things as we brushed our way to the future.
Fortunately today we live in a world where we can access online recipes for homemade toothpaste made with baking soda and other safe ingredients. I recommend the One Million Women website, a movement of women and girls fighting climate change by taking practical action in their everyday lives, for a recipe to try your hand at making your own paste.
So when you can't find what you want at the store, packaged in a sustainable way, make it yourself (hence no packaging) because not only do good things come in small packages, good things come from packages that naturally break down and do not pollute our oceans, nor add to our landfills.
Jane Dunne is a Senior Editor at Specialty Technical Publishers and she is currently working on an update to Environmental Auditing: Integrated California and Federal Compliance Guide, which covers the topic of solid waste management requirements.