Free Webinar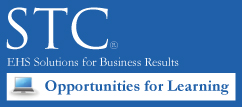 Date: Thursday, January 29, 2015
Time: 2:00 PM - 3:00 PM EDT
Free! All are welcome

The 2014 Federal, state, and local Tier II chemical inventory reports are due March 1—It's time to get ready!

Many states—and some municipalities—have requirements for chemical inventory reporting requirements that are different from or more stringent than the federal EPCRA Tier II reporting. Some states have much lower reporting thresholds for some or all chemicals, others require that reports use different forms or online software. And to complicate reporting programs, often these requirements change from year to year. During this free webinar, STC President, Barb Ruble will present key state differences and give you tips for ensuring timely and accurate reporting in your local jurisdiction. So if you're unsure what your state(s)' requirements are, save yourself some research time and let STC fill you in.

Space is limited. Registration details are available on STC's website.

Click here for more information about the range of guides authored by Specialty Technical Consultants.