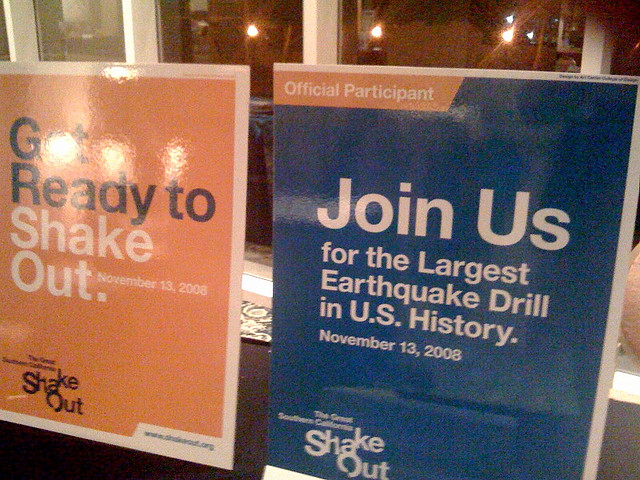 Once a year in our office, someone walks through the halls ringing an old-fashioned school bell. We immediately stop what we are doing, crawl under our desks and brace ourselves, and wait. A few moments later, one of our earthquake marshals comes by to tell us that it is safe to leave the building, and we carefully make our way down the stairs to the designated meeting spot. After checking the staff list and verifying that everyone made it out "safely," our marshals let us return to our work. It wasn't an earthquake—this time.
Earthquakes can happen at any time of year, and it is difficult to predict their occurrence or level of severity. Many parts of the world, including certain regions of Canada and all 50 American states are at some level of risk for earthquakes. Across North America and as far away as Italy, Japan, and New Zealand, individuals and organizations are responding to this risk by signing up to participate in The Great ShakeOut on October 16. This day is designated for organizations from schools and healthcare organizations, to large and small businesses, for review and testing of earthquake safety plans. U.S. sponsors for this event include the Federal Emergency Management Agency, the National Science Foundation, the National Earthquake Hazards Reduction Program, as well as sponsors at regional and local levels such as utility and insurance companies.
National and state or provincial regulations require employers to provide a safe workplace. This obligation can include conducting risk assessments, developing and implementing written emergency procedures, clearly marking emergency exit routes and holding fire drills. In areas where earthquakes occur, emergency plans that include earthquake drills may be as useful as the more familiar fire drills—and The Great ShakeOut is a perfect opportunity to evaluate your readiness.
Drop, Cover and Hold On
When an earthquake strikes, the immediate concern is for the individual's safely. The recommended steps to protect yourself are "Drop, Cover, and Hold On."
Drop to the ground.

Take Cover under a table or desk.

Hold on to the object sheltering you.
Stay covered for at least a minute. If you are in an indoor location where this is not possible, avoid windows and doorways—interior corners are safer. If you are outdoors, quickly move to an area away from buildings (glass and falling debris), utility poles and wires, billboards and other structures.
Business Plans For Better Recovery
As well as preventing harm to employees, an earthquake plan should include a variety of measures to prevent or reduce damage to your business assets—from buildings and inventory, to computer and communication systems. If the earthquake is small, the only "damage" may be tilted office pictures. More severe earthquakes may trigger fires or floods, and may damage buildings and city infrastructure such as roads, public utility systems, communication networks and emergency response organizations. Many disaster planning organizations recommend keeping enough water and non-perishable food to last for at least 72 hours.
Planning for the worst-case scenario in the event of an earthquake is a part of any good risk management plan. A good earthquake plan, properly implemented, reduces the chance of death or injury to employees and customers, reduces financial loss (lost time and damaged equipment or products) and reduces the chances of being found criminally liable for not providing protection against a known hazard. It can also lead to a quicker recovery—for your employees, your customers and your bottom line.
Resources For Creating and Reviewing Earthquake Plans
Emergency plans in the workplace are required by law. There is a wide range of easy-to-obtain resources in a variety of languages, from workplace posters to checklists, to help you create, customize, and implement a plan for your organization's particular needs. Be ready to "Shake Out" with millions of people across the world on October 16.
For information on preparing your earthquake plan and participating in the world-wide safety drill, see:
Two sample business guides available at:
STP has recently published an update to its publication OSHA Compliance: A Simplified National Guide and also publishes the following related guides: