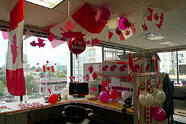 Warm summer weather means increased holiday bookings, employees less inclined to stay late, and in some cases, lowered staffing levels. But an empty chair may not mean the employee is out just enjoying the sunshine; they may be taking any one of a number of leaves of absences.
Under certain conditions, employees are entitled to leaves ranging from leave as result of a sudden, short-term emergency such as a family illness, to a long-term, long-anticipated absence such as maternity or parental leave. Types of leave fall under two general categories: family responsibilities, and service responsibilities.
Many Types of Leave
Family responsibilities include the abovementioned maternity and parental leave, as well as leave for adoption, bereavement, or to care for a family member experiencing a serious illness (compassionate leave). In Quebec, employees are eligible for one day of unpaid leave in order to attend a wedding or civil union—that of the employee or of family members such as children, parents, or siblings.
The unofficial category of service responsibilities includes leave to fulfill jury or witness duty, perform reservist duty, or act as a tissue or live organ donor. While some leaves are found in most jurisdictions, others are only available in a few provinces or territories. For example, only Ontario, Quebec, Saskatchewan and Manitoba offer donor leave.
Many Conditions of Leave
Just as the types of leaves vary from one jurisdiction to the next, so do the eligibility requirements. It is a common condition that the employer may not terminate or change the employment conditions of an employee who is on leave, but there is a wide variation on the amount of notice an employee must provide, the length of leave available, and the length of employment required for eligibility.
Leave for Citizenship Ceremonies
In addition to sorting out all the various requirements and entitlements of existing types of leave, the adoption of new leaves brings new details to track. The recent proclamation of the Saskatchewan Employment Act brought in a number of changes and introduced a one-day unpaid leave of absence for an employee to attend his or her citizenship ceremony and receive the certificate of citizenship. Nova Scotia is currently the only other province to provide an unpaid day of citizenship leave, but Manitoba allows up to four hours of unpaid leave for the ceremony.
Sorting Out Requirements
It's challenging to keep track of the ever-changing landscape of the employee leaves of absence. As a starting point, here are some basic questions that apply to most situations:
Is there a minimum length of employment to establish eligibility for leave?

Is there a minimum notice to be provided by employee requesting leave?

What kind of notice is required from the employee regarding the date of return from leave?

Under what conditions can certain types of leave be extended or combined with other types of leave?

From what conditions are your employees protected while on leave re: job security (e.g., may not be terminated or undergo changes of employment conditions)?
STP has recently issued an update to its publication Employment Law: Solutions for the Canadian Workplace and also publishes the following related guide: