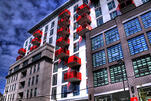 A recent case in British Columbia's Supreme Court illustrates the difficulty of winning damages for loss and injury attributed to mold.
In Kayne v. The Owners, Strata Plan LMS 2374 (2013 BCSC 51 (CanLII)), a long-simmering conflict between a condominium owner and the strata council of Wildwood Glen in Surrey, BC, came to a head. The plaintiff owner, Peter Kayne, had already filed human rights complaints against the council and attempted to take it to court over what he perceived as its mishandling of, among other issues, repairs to water damage in his unit.
The building Kayne's unit was in had been constructed in 1995 and occupied in spring of 1996. Kayne and his wife, Linda, had bought the unit and moved in in July 2000. In subsequent years, various water ingress problems arose in the unit. Inadequate space between patio concrete and barge boards would be identified as the culprit in the most severe damage, but as noted at trial, the state of the art of condominium construction in the mid 90s was not as sophisticated as it is now, so the court failed to find negligence on the part of the builder.
Kayne's wife and adult son both suffered from "flu-like" symptoms while living in the unit after the most extensive mold damage was found in a ground-floor bedroom where the son was staying in 2007.
After a long and complex history of building envelope assessments and reports, and sporadic repairs to Kayne's unit, a more extensive series of repairs was carried out on the unit from September 2010 to April 2011. The plaintiff and his family had already moved out of the unit into rental accommodations in July 2009, and at the end of 2010 decided to sell the unit, in part because of lingering ill will between the plaintiff and the strata council. After the new owner moved in, no further water ingress or mold problems in the unit were reported.
The trial transcript notes that
…counsel for the plaintiffs argued that the following provides sufficient evidence of Kepland's shoddy construction posing a real and substantial danger:
a) [plaintiff]'s and [engineering consultant]'s evidence that the rear landings and stairs were rotten;
b) [plaintiff' son]'s sickness and the common sense notion that "mould is bad"; and
c) [plaintiff]'s evidence that water was seen running down electrical wiring in the exposed exterior walls.
However, the judge ruled that the plaintiff was asking the court merely to infer that the black substance in photos submitted in evidence was mold, and that he had not provided any expert evidence to verify this. The judge was not moved by arguments that expert evidence was unnecessary:
Counsel for the plaintiffs argues that, while Seiler makes it clear that expert evidence is necessary in order to prove the effect of mould, expert evidence is not required to prove the existence of mould. He argues that evidence from a lay witness, even though untrained in what does or does not constitute mould, that mould was present is sufficient. I disagree. The question is whether or not mould was present, not whether or not the plaintiffs thought mould was present. As was made clear in Seiler, the answer requires the evidence of a properly trained expert. The black colouration that was plainly visible in the photographs could well have been mould. Equally, it could have been rot, tar excretion, mere staining or some other phenomenon. Without the benefit of expert testimony, the Court is left to speculate.
The court was similarly unmoved by the contention that the builder was responsible for health concerns experienced by the Kaynes while they lived at Wildwood Glen:
First, with respect to the plaintiffs' claim for non-pecuniary damages, there is a complete absence of any medical evidence that the plaintiffs' health was affected by anything Kepland did or failed to do. Putting the evidence at its best for the plaintiffs, there was a black substance present on some of the building components that could have been mould caused by shoddy construction on the part of Kepland. However, there is no medical evidence linking the presence of this black substance to the flu-like, allergy or other symptoms that Peter and Linda perceived they were experienced [sic]. As expressed by the Supreme Court of Canada in Mustapha v. Culligan of Canada Ltd., 2008 SCC 27 (CanLII), [2008] 2 S.C.R. 114 at para. 9, there must be proof of serious and prolonged injury that rises above "the ordinary annoyances, anxieties and fears that people living in society routinely, if sometimes reluctantly, accept. A mere concern or perception of physical injury is not proof of actual physical injury: M. Hasewaga & Co. v. Pepsi Bottling Group (Canada), Co., [2002] B.C.J. No. 1125 (BCCA) at para. 56. There is no evidentiary basis upon which a claim for non-pecuniary damages can be founded.
Claims for reimbursement of moving and rental expenses were also denied, as Kayne's unit was not found to be "objectively uninhabitable" when he and his family moved out.
Given the strict standards of evidence that courts require in such cases—and this applies to the U.S. as much as to Canada—homeowners would do well to educate themselves about mold prevention and about documenting water damage issues that arise on their premises.
STP recently released an update to Mold: A Comprehensive Claims Guide and also publishes the following related guides: