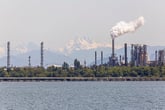 On August 2, the White House's Council on Environmental Quality (CEQ) issued guidance to assist federal agencies in their consideration of the effects of greenhouse gas (GHG) emissions and climate change when evaluating proposed federal actions. I refer to this documents as "the Guidance" below.
Questions about climate change can arise when agencies fulfill their responsibilities under the National Environmental Policy Act of 1969 (NEPA) and CEQ regulations. NEPA requires federal agencies to incorporate environmental considerations into their planning and decision-making. These efforts are to include detailed statements assessing the environmental impact of and alternatives to major federal actions significantly affecting the environment. These statements are commonly referred to as Environmental Impact Statements (EIS) and Environmental Assessments (EA). In the decades since 1969, methodologies and issues have evolved along with environmental awareness – this month's guidance is the latest example.
Although the CEQ Guidance is directly relevant only to federal agencies and to parties involved in federal evaluations and decision processes, it provides useful approaches that any organizational analyst or decision maker may find useful.
What General Recommendations Does The Guidance Provide?
CEQ's Guidance is intended to assist agencies in disclosing and considering the effects of GHG emissions and climate change along with the other reasonably foreseeable environmental effects of their proposed actions. The Guidance explains the application of NEPA principles and practices to the analysis of GHG emissions and climate change. It applies to all federal actions subject to NEPA, which can include site-specific actions, funding of site-specific projects, rulemaking actions, permitting decisions, and land and resource management decisions. At the highest level of analysis, the Guidance recommends that agencies consider both of the following:
Potential effects of a proposed action on climate change, as indicated by assessing GHG emissions (e.g., to include, where applicable, carbon sequestration).

Potential effects of climate change on a proposed action and its environmental impacts (e.g., in the context of rising sea levels, changing rainfall and other climate patterns, etc.).
What More Specific Recommendations Does the Guidance Provide?
The Guidance also explains how NEPA principles and practices apply to analysis of GHG emissions and climate change, and offers the following guidance to analyses associated with a proposed agency action:
Recommends that agencies use projected increases and decreases in GHG emissions as a proxy for assessing potential climate change effects, when preparing a NEPA analysis (this approach allows agencies to compare and evaluate projects, without immersing themselves in global climate modelling).

Recommends that agencies quantify a proposed action's projected direct and indirect GHG emissions, taking into account available data and suitable GHG quantification tools.

Recommends that agencies offer a qualitative analysis, for proposed agency actions for which GHG emissions cannot readily be quantified (because tools, methodologies, or data inputs are not reasonably available to support calculations for a quantitative analysis).

Discusses methods to appropriately analyze reasonably foreseeable direct, indirect, and cumulative GHG emissions and climate effects.

Guides the consideration of reasonable alternatives and recommends that agencies consider the short- and long-term effects and benefits in the alternatives and mitigation analysis.

Advises agencies to use available information when assessing the potential future state of the affected environment in a NEPA analysis instead of undertaking new research, and provides examples of existing sources of scientific information.

Counsels agencies to use information developed during NEPA review to consider alternatives that would make the actions and affected communities more resilient to the effects of a changing climate.

Outlines special considerations for agencies analyzing biogenic carbon dioxide sources and carbon stocks associated with land and resource management actions under NEPA.

Recommends that agencies select the appropriate level of NEPA review to assess broad-scale effects of GHG emissions and climate change, either to inform programmatic decisions, and/or tiered project- or site-specific level as appropriate, and to set forth a reasoned explanation for the agency's approach.

Counsels agencies that the "rule of reason" inherent in NEPA and CEQ regulations allows agencies to determine, based on their expertise and experience, how to consider an environmental effect and prepare an analysis based on the available information.
Implementation Checklist
Does the organization conduct formal evaluation of possible environmental impacts of its activities and programs, including individual decisions involving these activities and programs?
Does the organization consider net GHG emissions associated with its activities and programs?

Does the organization consider how changing climate may affect its activities and programs, including how it might alter them to reduce impacts and/or increase resilience?
Where Do I Go For More Information?
Information available via the Internet includes:
Specialty Technical Publishers (STP) provides a variety of single-law and multi-law services, intended to facilitate clients' understanding of and compliance with requirements. These include:
About the Author

Jon Elliott is President of Touchstone Environmental and has been a major contributor to STP's product range for over 25 years. He was involved in developing 13 existing products, including Environmental Compliance: A Simplified National Guide and The Complete Guide to Environmental Law.
Mr. Elliott has a diverse educational background. In addition to his Juris Doctor (University of California, Boalt Hall School of Law, 1981), he holds a Master of Public Policy (Goldman School of Public Policy [GSPP], UC Berkeley, 1980), and a Bachelor of Science in Mechanical Engineering (Princeton University, 1977).
Mr. Elliott is active in professional and community organizations. In addition, he is a past chairman of the Board of Directors of the GSPP Alumni Association, and past member of the Executive Committee of the State Bar of California's Environmental Law Section (including past chair of its Legislative Committee).
You may contact Mr. Elliott directly at: tei@ix.netcom.com.