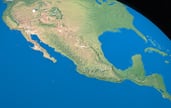 While domestic climate politics in the U.S. and Canada generate hot air about the reality and urgency of climate change, climate science proceeds largely on its own pathways, and climate policies to reduce greenhouse gas (GHG) emissions are being proposed and developed by a wide variety of entities. On November 23 – often referred to as "Black Friday" by retailers and shoppers in the U.S., regardless of their attitudes about global warming – the U.S. government's U.S. Global Change Research Program (USGCRP) delivered urgent recommendations for aggressive policies. This Fourth National Climate Assessment (NCA4) builds on last year's Climate Science Special Report (which I wrote about here).
Whose Reports Are They?
The USGRP is a group of 13 federal agencies with relevant authority and expertise, with the development of the NCA4 overseen by the National Oceanographic and Atmospheric Administration (NOAA). The Program was established by the Global Change Research Act (GCRA) of 1990, to "assist the Nation and the world to understand, assess, predict, and respond to human-induced and natural processes of global change." The November 2017 Science Report is Volume I of the latest climate assessment, and the November 2018 is Volume II "Impacts, Risks, and Adaptation in the United States."
What Did the Science Report Disclose?
As summarized in the Executive Summary to the Volume I Science Report:
"This assessment concludes, based on extensive evidence, that it is extremely likely that human activities, especially emissions of greenhouse gases, are the dominant cause of the observed warming since the mid-20th century. For the warming over the last century, there is no convincing alternative explanation supported by the extent of the observational evidence."
The Science Report sifts through thousands of studies worldwide, concluding that temperatures have risen 1oC since 1900 – 2/3 of that since 1986. Remember that the Paris Agreement hopes to hold global climate change to a total of 2oC since pre-industrial times. (I summarized the Science Report's structure and conclusions in last year's blog).
What Does the New Report

Recommend?
The new report builds on the scientific background and projects in the Volume I Science Report. To summarize the basis for its recommendations, the Overview to the new report states:
"Observations collected around the world provide significant, clear, and compelling evidence that global average temperature is much higher, and is rising more rapidly, than anything modern civilization has experienced, with widespread and growing impacts. The warming trend observed over the past century can only be explained by the effects that human activities, especially emissions of greenhouse gases, have had on the climate."
"[This report] concludes that the evidence of human-caused climate change is overwhelming and continues to strengthen, that the impacts of climate change are intensifying across the country, and that climate-related threats to Americans' physical, social, and economic well-being are rising. These impacts are projected to intensify—but how much they intensify will depend on actions taken to reduce global greenhouse gas emissions and to adapt to the risks from climate change now and in the coming decades."
The report consists of 29 chapters (plus 5 appendices):
Overview (1 chapter)

National Topics (16 chapters)

Regions (i.e., of the US; 10 chapters)

Responses (2 chapters)
These chapters update and focus scientific information from last year's Science Report. The Report projects severe environmental, health and economic impacts if GHG emissions are not reduced substantially – including average temperature rises of up to 6.6°C (12°F) by 2100, with associated harm to health and the environment, and economic costs as high as 10% of GNP. To mitigate these huge harms, the Report identifies a broad range of emission-reduction and impact-mitigation measures. The Report also emphasizes that climate models indicate that earlier adoption has a better chance to avoid likely feedback loops and possible tipping points.
What's Next?
Early media reports suggest that the Trump Administration chose not to edit the report, and to downplay its significance and newsworthiness, in anticipation that the reports effects on political discourse could be minimized (to be fair, it's not yet clear to me how much these media reports are based on off-the-record interviews as opposed to suppositions based on past practice). Initial public responses from stakeholders follow predictable lines based on each respondent's pre-existing position on climate change issues, so it's not yet possible to gauge the report's impacts on the broader debates.
Self-Assessment Checklist
Has the organization evaluated its activities to assess how climate changes would affect them?
Has the organization considered how it could change its activities in order to adapt to anticipated effects of climate change to reduce negative impacts?
Has the organization considered how it could change its activities in order to adapt to anticipated effects of climate change to enhance positive impacts?
Has the organization evaluated its activities to assess changes that would reduce its emissions of greenhouse gases and to reduce its other contributions to climate change?
Where Do I Go For More Information?
Specialty Technical Publishers (STP) provides a variety of single-law and multi-law services, intended to facilitate clients' understanding of and compliance with requirements.
About the Author
Jon Elliott is President of Touchstone Environmental and has been a major contributor to STP's product range for over 25 years.

Mr. Elliott has a diverse educational background. In addition to his Juris Doctor (University of California, Boalt Hall School of Law, 1981), he holds a Master of Public Policy (Goldman School of Public Policy [GSPP], UC Berkeley, 1980), and a Bachelor of Science in Mechanical Engineering (Princeton University, 1977).

Mr. Elliott is active in professional and community organizations. In addition, he is a past chairman of the Board of Directors of the GSPP Alumni Association, and past member of the Executive Committee of the State Bar of California's Environmental Law Section (including past chair of its Legislative Committee).
You may contact Mr. Elliott directly at: tei@ix.netcom.com