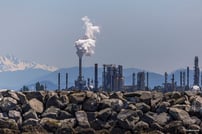 Although many agencies and officials in the Trump administration downplay or deny human contributions to climate change, a major new government report accepts that proposition, and documents its extent. On November 5, the U.S. Global Change Research Program published its Climate Science Special Report, which will serve as Volume 1 of the U.S. Fourth National Climate Assessment (NCA4). The Program is a group of 13 federal agencies with relevant authority and expertise, with the development of the NCA4 overseen by the National Oceanic and Atmospheric Administration (NOAA). The Program was established by the Global Change Research Act (GCRA) of 1990, to "assist the Nation and the world to understand, assess, predict, and respond to human-induced and natural processes of global change." As summarized in the Executive Summary to the Report:
"This assessment concludes, based on extensive evidence, that it is extremely likely that human activities, especially emissions of greenhouse gases, are the dominant cause of the observed warming since the mid-20th century. For the warming over the last century, there is no convincing alternative explanation supported by the extent of the observational evidence."
The Report consists of 15 chapters, which present a number of Key Findings along with summaries of the supporting evidence for each.
What Are The Documented Changes?
The Report identifies a wide variety of changes:
Air temperature increase. "Global annually averaged surface air temperature has increased by about 1.8°F (1.0°C) over the last 115 years (1901–2016). This period is now the warmest in the history of modern civilization."

Sea level rise. "[G]lobal average sea level has risen by about 7–8 inches since 1900, with almost half (about 3 inches) of that rise occurring since 1993."

Extreme weather. "Heatwaves have become more frequent in the United States since the 1960s, while extreme cold temperatures and cold waves are less frequent. … Some of the other extreme events, such as intense tropical cyclones, midlatitude cyclones, lightning, and hail and tornadoes associated with thunderstorms can occur as more isolated events and generally have more limited temporal and spatial observational datasets, making it more difficult to study their long-term trends."

Forest fires. "The incidence of large forest fires in the western United States and Alaska has increased since the early 1980s and is projected to further increase in those regions as the climate changes, with profound changes to regional ecosystems."

Snowpack and spring melt. "Annual trends toward earlier spring melt and reduced snowpack are already affecting water resources in the western United States and these trends are expected to continue."

Atmospheric CO2 levels. "The global atmospheric carbon dioxide (CO2) concentration has now passed 400 parts per million (ppm), a level that last occurred about 3 million years ago, when both global average temperature and sea level were significantly higher than today."

Changing atmospheric CO2 levels. "The observed increase in carbon emissions over the past 15–20 years has been consistent with higher emissions pathways. In 2014 and 2015, emission growth rates slowed as economic growth became less carbon-intensive. Even if this slowing trend continues, however, it is not yet at a rate that would limit global average temperature change to well below 3.6°F (2°C) above preindustrial levels."
How is the Report Organized?
The Report contains an extensive Executive Summary, 15 chapters (organized by topic), and 5 appendices. Each chapter includes Key Findings, based on the authors' judgment of the synthesis of the assessed literature. The chapters are:
Our Globally Changing Climate.

Physical Drivers of Climate Change.

Detection and Attribution of Climate Change.

Climate Models, Scenarios, and Projections.

Large-Scale Circulation and Climate Variability.

Temperature Changes in the United States.

Precipitation Change in the United States.

Droughts, Floods, and Wildfire.

Extreme Storms.

Changes in Land Cover and Terrestrial Biogeochemistry.

Arctic Changes and their Effects on Alaska and the Rest of the United States.

Sea Level Rise.

Ocean Acidification and Other Ocean Changes.

Perspectives on Climate Change Mitigation.

Compound Extremes and Tipping Elements.
Self-Assessment Checklist
Has the organization evaluated its activities to assess how climate changes would affect them?
Has the organization considered how it could change its activities in order to adapt to anticipated effects of climate change to reduce negative impacts?
Has the organization considered how it could change its activities in order to adapt to anticipated effects of climate change to enhance positive impacts?
Has the organization evaluated its activities to assess changes that would reduce its emissions of greenhouse gases and to reduce other contributions to climate change?
Where Do I Go For More Information?
Specialty Technical Publishers (STP) provides a variety of single-law and multi-law services, intended to facilitate clients' understanding of and compliance with requirements. These include:
About the Author
Jon Elliott is President of Touchstone Environmental and has been a major contributor to STP's product range for over 25 years. He was involved in developing 13 existing products, including Environmental Compliance: A Simplified National Guide and The Complete Guide to Environmental Law.

Mr. Elliott has a diverse educational background. In addition to his Juris Doctor (University of California, Boalt Hall School of Law, 1981), he holds a Master of Public Policy (Goldman School of Public Policy [GSPP], UC Berkeley, 1980), and a Bachelor of Science in Mechanical Engineering (Princeton University, 1977).

Mr. Elliott is active in professional and community organizations. In addition, he is a past chairman of the Board of Directors of the GSPP Alumni Association, and past member of the Executive Committee of the State Bar of California's Environmental Law Section (including past chair of its Legislative Committee).
You may contact Mr. Elliott directly at: tei@ix.netcom.com