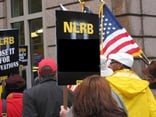 Most employers promulgate a wide range of employee-related policies and work rules, which some compile in employment manuals. All too frequently, these policies and work rules contain ambiguities that employees try to parse to understand what rules really apply, and why. What if employees interpret – or might reasonably interpret – an ambiguity in a way that appears to restrict employees' rights to organize themselves? Do these provisions violate the National Labor Relations Act (NLRA)?
In 2004, the National Labor Relations Board (NLRB) ruled that a "facially neutral" rule could violate the NLRA if employees might "reasonably construe" it to prohibit or inhibit their protected activities (Lutheran Heritage Village-Livonia). The Lutheran Heritage decision and subsequent cases that relied on that precedent slowly accumulated guidance for employers seeking to avoid these matters. During the 13 years, NLRB's five board slots changed a number of times, flipping between Democratic and Republican majorities as successive Presidents filled vacancies
However, the Lutheran Heritage policy has just been reversed in a new decision involving The Boeing Company, as one of the many policy reversals being made by the NLRB's pro-employer Republican majority re-established with President Trump's appointees in September 2017. (I blogged about NLRB's "joint employer" decision here).
What's the NLRA's Basic Standard for Employer Policies?
Section 7 of the NLRA guarantees employees "the right to self-organization, to form, join, or assist labor organizations, to bargain collectively through representatives of their own choosing, and to engage in other concerted activities for the purpose of collective bargaining or other mutual aid or protection," as well as the right "to refrain from any or all such activities." Therefore, any employer policy that directly or explicitly restricts these rights is a violation of the NLRA.
How has NLRB Changed its Approach to Ambiguous Employer Policies?
The issue in Lutheran Heritage and Boeing is how to evaluate an employee policy that is "facially neutral" regarding employees' collective action, to determine whether it has coercive implications. In Lutheran Heritage, NLRB stated:
[O]ur inquiry into whether the maintenance of a challenged rule is unlawful begins with the issue of whether the rule explicitly restricts activities protected by Section 7. If it does, we will find the rule unlawful. If the rule does not explicitly restrict activity protected by Section 7, the violation is dependent upon a showing of one of the following:
Employees would reasonably construe the language to prohibit Section 7 activity.

The rule was promulgated in response to union activity.

The rule has been applied to restrict the exercise of Section 7 rights. [emphasis added]
The Boeing decision revisits and rejects the "reasonably construe" approach, based on several complementary conclusions that this approach:
- "Entails a single-minded consideration of NLRA-protected rights, without taking into account any legitimate justifications associated with policies, rules and handbook provisions."
- Relies on "a misguided belief that unless employers correctly anticipate and carve out every possible overlap with NLRA coverage, employees are best served by not having employment policies, rules and handbooks."
- Requires "linguistic precision [that] stands in sharp contrast to the treatment of 'just cause' provisions, benefit plans, and other types of employment documents, and Lutheran Heritage fails to recognize that many ambiguities are inherent in the NLRA itself."
- "Has improperly limited the Board's own discretion. It has rendered unlawful every policy, rule and handbook provision an employee might "reasonably construe" to prohibit any type of Section 7 activity."
- "Has not permitted the Board to differentiate, to a sufficient degree, between and among different industries and work settings, nor [to consider] specific events"
- "Finally, the Board's Lutheran Heritage "reasonably construe" test has defied all reasonable efforts to make it yield predictable results"
To replace this standard, the Boeing decision commits NLRB to consider and balance the following two factors when evaluating a facially neutral policy, rule or handbook provision:
- The nature and extent of the potential impact on NLRA rights.
- Legitimate justifications associated with the rule.
NLRB delineates three categories of employment policies, rules and handbook provisions:
"Category 1 will include rules that the Board designates as lawful to maintain, either because (i) the rule, when reasonably interpreted, does not prohibit or interfere with the exercise of NLRA rights; or (ii) the potential adverse impact on protected rights is outweighed by justifications associated with the rule. Examples of Category 1 rules are the no-camera requirement in this case, the "harmonious interactions and relationships" rule that was at issue in [the recent] William Beaumont Hospital, and other rules requiring employees to abide by basic standards of civility.

Category 2 will include rules that warrant individualized scrutiny in each case as to whether the rule would prohibit or interfere with NLRA rights, and if so, whether any adverse impact on NLRA-protected conduct is outweighed by legitimate justifications.

Category 3 will include rules that the Board will designate as unlawful to maintain because they would prohibit or limit NLRA-protected conduct, and the adverse impact on NLRA rights is not outweighed by justifications associated with the rule. An example of a Category 3 rule would be a rule that prohibits employees from discussing wages or benefits with one another."
Under NLRB's new flexible approach, these categories seem largely to indicate that some employer policies will be valid, some problematic, and some prohibited.

Self-Assessment Checklist
Does the organization promulgate workplace rules and policies that govern employee conduct?
Does the organization evaluate its workplace rules and policies to determine whether they impinge – or might impinge – on employees' NLRA rights to provide collective action (including union activities)?
- Has the organization conducted this evaluation under the longstanding Lutheran Heritage analytical standard?
- Has the organization conducted this evaluation under the new Boeing analytical standard?
Where Do I Go For More Information?
NLRB's The Boeing Company case docket with decision (12/14/17; Case 19-CA-090932)
Specialty Technical Publishers (STP) provides a variety of single-law and multi-law services, intended to facilitate clients' understanding of and compliance with requirements. These include:
About the Author
Jon Elliott

is President of

Touchstone Environmental

and has been a major contributor to STP's product range for over 25 years. He was involved in developing

13 existing products, including

Environmental Compliance: A Simplified National Guide

and

The Complete Guide to Environmental Law

.



Mr. Elliott has a diverse educational background. In addition to his Juris Doctor (University of California, Boalt Hall School of Law, 1981), he holds a Master of Public Policy (Goldman School of Public Policy [GSPP], UC Berkeley, 1980), and a Bachelor of Science in Mechanical Engineering (Princeton University, 1977).

Mr. Elliott is active in professional and community organizations. In addition, he is a past chairman of the Board of Directors of the GSPP Alumni Association, and past member of the Executive Committee of the State Bar of California's Environmental Law Section (including past chair of its Legislative Committee).
You may contact Mr. Elliott directly at: tei@ix.netcom.com
photo credit: Tim Evanson NLRB_picketing_2007 via photopin (license)