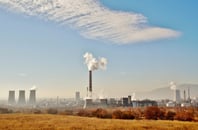 When are changes to an existing system so extensive that they produce a "new" system? This question is conceptually important in any evolving organization, and can have important regulatory consequences if requirements for "existing" systems are substantially different than those for "new" systems. Emissions regulations under the Clean Air Act (CAA) contain many such situations, and on October 22 the US Environmental Protection Agency (EPA) adopted changes to the "project emissions accounting" it uses to decide whether modifications to an existing major source are so extensive as to trigger preconstruction New Source Review (NSR) requirements. This revision codifies into regulations a policy changed announced in 2018.
The issue: when does something old become new again?
CAA requires "major" new sources of air pollutants to obtain pre-construction permits, so regulators can review proposals and define important equipment and operational standards before ground is broken. Separate programs apply to sources in areas that haven't attained national ambient air quality standards – Non-attainment New Source Review (NNSR or just NSR) – and sources in areas that are in attainment – Prevention of Serious Deterioration (PSD). Once a source is operating – including those already in operation when CAA was first enacted in 1970 – operating permits generally take the basic configuration as a given, and focus on operations, monitoring and record-keeping.
In addition, however, EPA recognizes that complicated source facilities may be renovated, retrofitted, or otherwise revamped over time, and has provides for regulatory procedures to address which changes may "modify" a permitted source in ways that justify another round of pre-construction review and permitting. EPA has also recognized that entities have an incentive to game the regulatory system by breaking up big projects and presenting them as though they were multiple small projects too small to trigger re-permitting (I wrote about the history of EPA's responses to this issue HERE).
These rules focus not on the physical changes to the emitting facility itself, but on the impacts of the changes on the facility's emissions.
What changes is EPA adopting?
EPA sorts its NSR applicability regulations into two steps:
1. determine if the proposed project would result in a "significant emissions increase" of a regulated NSR pollutant, meaning the project results in a "major modification" (Step 1).
2. If Step 1 indicates an increase that would trigger NSR requirements, the facility can also consider emission increases and emission decreases attributable to other projects undertaken at the stationary source within a specific time frame (generally 5 years; referred to as "contemporaneous netting") to determine whether the entire suite of projects would result in a "significant net emissions increase" of that pollutant from the source (Step 2).
Step 2 effectively allows facilities to design contemporaneous offset projects in order to fall back below NSR applicability thresholds.
Now, however, EPA is revising its NSR applicability regulations to soften Step 1, by allowing consideration of both increases and decreases from a proposed project during Step 1. This may allow a determination during Step 1 that NSR should not apply (i.e., applicability threshold is not met), without accruing the complications and delays associated with conducting Step 2.
Allowing this possibility creates incentives for facilities to design a "project" in ways that incorporate changes that might keep net increases below the applicable threshold. This month's revisions support that option by revising the text of the regulation from "the sum of the emissions increases for each emissions unit" to "the sum of the difference for all emissions units" (40 CFR 51.165(a)(2)(ii)(F)).
Now what?
Once in force, the changes should allow more modification projects to be undertaken without being characterized as a "major modification" triggering NSR. The revised rules will become effective 30 days after publication in the Federal Register. If President Trump is reelected then EPA will move in 2021 to implement them, but if Joe Biden is elected it's reasonable to assume that EPA will reopen or delay the rulemaking in order to allow the new administration to evaluate these changes.
Self-Assessment Checklist
Does the organization operate any activities subject to a major source air permit under CAA?
Is the organization planning to modify any of these sources?
If so, has the organization analyzed whether its proposed project would qualify under existing NSR regulations as a major modification that would trigger NSR?
If so, has the organization analyzed whether its proposed project would qualify under EPA's revised regulations as a major modification that would trigger NSR?
Where do I go for more information?
Information available via the Internet includes:
About the Author
Jon Elliott is President of Touchstone Environmental and has been a major contributor to STP's product range for over 30 years.

Mr. Elliott has a diverse educational background. In addition to his Juris Doctor (University of California, Boalt Hall School of Law, 1981), he holds a Master of Public Policy (Goldman School of Public Policy [GSPP], UC Berkeley, 1980), and a Bachelor of Science in Mechanical Engineering (Princeton University, 1977).

Mr. Elliott is active in professional and community organizations. In addition, he is a past chairman of the Board of Directors of the GSPP Alumni Association, and past member of the Executive Committee of the State Bar of California's Environmental Law Section (including past chair of its Legislative Committee).
You may contact Mr. Elliott directly at: tei@ix.netcom.com