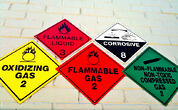 December 1, 2013 marked the first major compliance deadlines for most employers to comply with revisions to the Occupational Safety and Health Administration's (OSHA's) Hazard Communication Standard (HCS or Hazcom) adopted by OSHA effective May 25, 2012. Hazcom provides basic chemical information in millions of workplaces in the U.S. (Canadian readers will be familiar with analogous Workplace Hazardous Materials Information System (WHMIS) requirements).
OSHA's revisions culminate six years of domestic rulemaking and catching up with twenty years of international work alongside other countries on the Globally Harmonized System of Classification and Labeling of Chemicals (GHS). I posted details soon after the rules were issued in 2012. (read here). Employers could begin to comply immediately after the revisions became effective on May 25, 2012, but OSHA has spread final compliance deadlines over more than four years.
OSHA's 2012 Hazcom revisions replace the longstanding centerpiece of workplace chemical information—Material Safety Data Sheets (MSDSs)—with a new document called Safety Data Sheets (SDSs). Both formats are designed to present all the basic information a worker needs to understand the hazards of each workplace chemical and how to work with it safely. But SDSs reflect a later generation of information, and do a more thorough and effective job. They provide more information than MSDSs ... and under tighter guidelines intended to ensure that this information is more reliable and more consistently useful to employees.
OSHA's 2012 Hazcom revisions also revised chemical container labeling requirements to conform with these updated information requirements. Labels should contain:
Product identifier—so each employee knows which product he or she is using.

Supplier identification.

Signal word "DANGER".

Precautionary statements (e.g., about personal protective equipment (PPE) necessary, ventilation, etc.).

Hazard pictogram(s) specified by OSHA/GHS to identify hazard classes.

Hazard statement(s) specified by OSHA/GHS to identify hazard classes.

Supplemental information, if any is required.
Information and Training Requirements Changing December 1
OSHA requires employers to provide "effective" information and training to all employees who will work with or may be exposed to hazardous chemicals.
Employees must be informed of the following:
Hazcom requirements

Any operations in their work area involving hazardous chemicals

Location and availability of the written hazard communication program, including chemical lists and MSDSs/SDSs

Their right and that of their physician and union agent to receive information regarding hazardous chemicals to which they may be exposed

Their right to exercise any of the rights designated to them in the Federal OSH Act without being discharged or retaliated against.
Employee training must include at least the following:
Methods to detect the release of hazardous chemicals into the work area

Hazards of chemicals in the work area, including physical and health hazards, and (effective May 25, 2012) simple asphyxiation, combustible dust, pyrophoric gas, and "not otherwise classified" hazards

Measures employees could take to protect themselves from exposures, including appropriate work practices, emergency procedures, and the proper use of PPE

Explanations of MSDSs/SDSs, labels, similar documents, and methods of obtaining and using appropriate hazard information.
Most end-user employers, who buy chemicals for their employees' use, rely on manufacturers' information. This means that switching the core of Hazcom information and training efforts from MSDSs to SDSs may require extensive revamping of these efforts. OSHA decided to give employers nearly 18 months to make those changes, and deferred the deadline for incorporation of SDSs and SDS-based information, and revised labeling until December 1, 2013.
That deadline has just passed, so all employers in the US should have revised all information and training as of that date, and be basing all Hazcom training on SDSs. Note, however, that manufacturers and importers have until June 1, 2015 to replace MSDSs with SDSs, or to upgrade product labeling to meet the new requirements. So you may be receiving Old School MSDSs and containers for another 18 months. Since employers have to ensure that employees are trained in available information, employers who still receive and use these Old School items should continue to address them in information and training efforts.
Implementation Checklist
Has the organization received Material Safety Data Sheets (MSDSs) or Safety Data Sheets (SDSs) for every hazardous chemical used in the workplace?
Has the organization identified work areas where:
All manufacturers' information is still provided on MSDSs.

Manufacturers' information is provided on a combination of MSDSs and SDSs.

All manufacturers' information is provided on SDSs.
Has the employer reviewed product labeling for compliance with standards effective May 25, 2012?
Has the organization identified work areas where:
All labels continue meet standards that pre-date May 25, 2012.

Labels reflect a combination of new and old standards.

All labels meet new standards.
Has the organization updated all Hazcom information to comply with requirements effective May 25, 2012?
Has the organization updated all Hazcom training to comply with requirements effective May 25, 2012?
Does this training include training in how to recognize, understand and use information in:

Does this training reflect:

Labeling standards effective May 25, 2012?

Labeling standards effective prior to May 25, 2012 (but still useable by manufacturers and importers until June 1, 2015)?
Where Can I Go For More Information?
Specialty Technical Publishers (STP) provides a variety of single-law and multi-law services, intended to facilitate clients' understanding of and compliance with requirements. These include:
About the Author

Jon Elliott is President of Touchstone Environmental and has been a major contributor to STP's product range for over 25 years. He was involved in developing 16 existing products,including Workplace Violence Prevention: A Practical Guide to Security on the Job and Directors' and Officers' Liability.
Mr. Elliott has a diverse educational background. In addition to his Juris Doctor (University of California, Boalt Hall School of Law, 1981), he holds a Master of Public Policy (Goldman School of Public Policy [GSPP], UC Berkeley, 1980), and a Bachelor of Science in Mechanical Engineering (Princeton University, 1977).
Mr. Elliott is active in professional and community organizations. In addition, he is a past chairman of the Board of Directors of the GSPP Alumni Association, and past member of the Executive Committee of the State Bar of California's Environmental Law Section (including past chair of its Legislative Committee).
You may contact Mr. Elliott directly at: tei@ix.netcom.com.