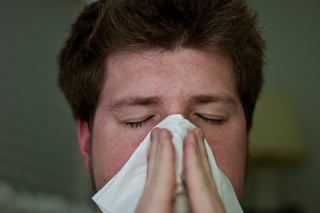 Every winter, employee and public health officials around the world prepare for influenza ("flu") seasons, which vary from mild to the occasional pandemic. Here in the U.S., the Centers for Disease Control and Prevention (CDC) issue annual forecasts of the strain(s) expected to be dominant, the severity of resulting health impacts, and of the availability and efficacy of vaccinations.
What Flu Strains Are Expected This Year, And Is The Vaccine Ready?
CDC reports that most traditional flu vaccines are made to protect against three flu viruses (called "trivalent" vaccines); an influenza A (H1N1) virus, an influenza A (H3N2) virus, and an influenza B virus. There are also flu vaccines made to protect against four flu viruses (called "quadrivalent" vaccines), including the same viruses as the trivalent vaccine and an additional B virus. For the 2015-16 flu season, over 142 million doses of vaccine had already been distributed by December 11. As of that time, report flu cases were low, with influenza A viruses most common and influenza A (H3) viruses predominating.
What Should Individuals Do?
CDC recommends that nearly everyone six months old or older get a flu vaccination each year. Although most victims in most years recover within two weeks without serious complications, public health data identify some groups at higher risk for complications, including life-threatening complications:
Children younger than 5 (especially those younger than 2)

Adults 65 years of age and older

Pregnant women (and women up to two weeks post partum)

Residents of nursing homes and other long-term care facilities

People with a variety of chronic health conditions, including asthma, lung or heart diseases, liver or kidney disorders, and morbid obesity

American Indians and Alaskan Natives.
What Should Employers Do?
Each year, the Occupational Safety and Health Administration (OSHA) transmits CDC assessments and recommendations, and refines them into targeted recommendations for employers. OSHA's current recommendations consist of the following:
For all employers:
Promote vaccination, and consider hosting a vaccination clinic at the workplace.

Encourage sick workers to stay home, and develop a policy for response to visitors (contractors, clients, etc.) who may be ill.

Promote hand hygiene and cough etiquette.

Keep the workplace clean.

Address travel concerns, including possible restrictions on identified hot spots, and policies for employees who become ill while traveling.
For healthcare employers:
Promote, administer and make readily accessible the annual flu vaccine to all workers (note that mandatory vaccinations have led to lawsuits in some jurisdictions).

Encourage sick workers to stay at home.

Emphasize hand hygiene and cough etiquette.

Use airborne infection isolation rooms.

Ensure proper functioning of the heating, ventilation, and air conditioning (HVAC) system in patient rooms, procedure rooms, and examination rooms.

Limit the transport of infectious patients throughout the healthcare facility.

Limit the number of healthcare staff who come in contact with flu patients.

Give proper personal protective equipment (PPE) (gloves, gowns, surgical masks, respirators) to healthcare staff and ensure PPE is used and discarded correctly.
Self Assessment Checklist
Does the organization have a policy addressing flu season, which may include:
Prevention measures.

Support for vaccinations.

Sick leave or attendance policies for employees who may be ill.

Policies for visitors who may be ill.
Where Can I Go For More Information?
Specialty Technical Publishers (STP) provides a variety of single-law and multi-law services, intended to facilitate clients' understanding of and compliance with requirements. These include:
About the Author

Jon Elliott is President of Touchstone Environmental and has been a major contributor to STP's product range for over 25 years. He was involved in developing 12 existing products, including Environmental Compliance: A Simplified National Guide and The Complete Guide to Environmental Law.
Mr. Elliott has a diverse educational background. In addition to his Juris Doctor (University of California, Boalt Hall School of Law, 1981), he holds a Master of Public Policy (Goldman School of Public Policy [GSPP], UC Berkeley, 1980), and a Bachelor of Science in Mechanical Engineering (Princeton University, 1977).
Mr. Elliott is active in professional and community organizations. In addition, he is a past chairman of the Board of Directors of the GSPP Alumni Association, and past member of the Executive Committee of the State Bar of California's Environmental Law Section (including past chair of its Legislative Committee).
You may contact Mr. Elliott directly at: tei@ix.netcom.com.