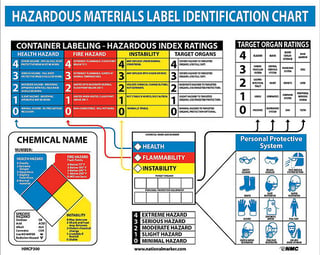 The Occupational Safety and Health Administration (OSHA) adopted massive changes to its Hazard Communication Standard (HCS or Hazcom) effective May 25, 2012, updating chemical information, labeling and training requirements that had been in place since the 1980s. These revised requirements conform U.S. requirements to international guidelines under the U.N.-sponsored Globally Harmonized System of Classification and Labeling of Chemicals (GHS). Recognizing the extent of these changes, OSHA provided multi-year compliance phase-ins for employers whose workers manufacture, distribute or use chemicals (I've previously blogged about the changes here, here and here). The next such deadline is December 1, 2015, when distributors must only ship containers that meet the latest labeling requirements – so if you work for an employer that's an end user of chemicals, all containers entering your facility must meet these requirements rather than the pre-2012 requirements.
What Labeling Requirements Now Apply?
Every manufacturer's container of hazardous chemicals must now be labeled with the following information:
Product identifier (e.g., chemical name, code number or batch number)

Signal word (either "Warning" for less severe hazards or Danger" for more severe hazards

Hazard statement(s) describing the nature of the hazard(s) of a chemical (e.g., "Causes damage to kidneys through prolonged or repeated exposure when absorbed through the skin.")

Pictogram(s) (e.g., skull-and-crossbones)

Precautionary statement(s) recommending measures to minimize or prevent adverse effects resulting from exposure (i.e., prevention to minimize exposure); response (in case of accidental spillage or exposure); emergency response, and first-aid; storage; and disposal)

Name, address, and telephone number of the chemical manufacturer, importer, or other responsible party

Supplemental Information, IF ANY. The label producer must identify the percentage of ingredient(s) of unknown acute toxicity present in a concentration of ≥1 %. It also may provide additional instructions or information it deems helpful, may also list any hazards not otherwise classified ("HNOC" in OSHA usage).
The deadline to explain this updated labeling in Hazcom training was December 1, 2013, so employees should be familiar with these requirements already.


Self-Assessment Checklist Process
Has the organization prepared a written Hazcom program for each workplace where hazardous chemicals are handled?

Does each Hazcom program already meet the GHS standards provided in the revised Hazcom, including updated labeling?

Does the organization review newly purchased chemicals to verify that they are properly labeled, including with Hazcom requirements?
Where Can I Go For More Information?

• OSHA Hazard Communication website
Specialty Technical Publishers (STP) provides a variety of single-law and multi-law services, intended to facilitate clients' understanding of and compliance with requirements. These include:
About the Author

Jon Elliott is President of Touchstone Environmental and has been a major contributor to STP's product range for over 25 years. He was involved in developing 12 existing products, including Environmental Compliance: A Simplified National Guide and The Complete Guide to Environmental Law.
Mr. Elliott has a diverse educational background. In addition to his Juris Doctor (University of California, Boalt Hall School of Law, 1981), he holds a Master of Public Policy (Goldman School of Public Policy [GSPP], UC Berkeley, 1980), and a Bachelor of Science in Mechanical Engineering (Princeton University, 1977).
Mr. Elliott is active in professional and community organizations. In addition, he is a past chairman of the Board of Directors of the GSPP Alumni Association, and past member of the Executive Committee of the State Bar of California's Environmental Law Section (including past chair of its Legislative Committee).
You may contact Mr. Elliott directly at: tei@ix.netcom.com.