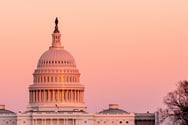 On March 11, the Trump Administration issued its budget proposal for federal Fiscal Year (FY) 2020 (October 1, 2019 through September 30, 2020), entitled "A Budget for a Better America: Promises Kept. Taxpayers First." The proposal includes a 31% cut in the Environmental Protection Agency (EPA) budget, from $8.28 billion in FY 2019 (under a Continuing Budget Resolutions rather than a fully-new federal budget), to $6.07 billion for FY 2020, with corresponding personnel cuts from 14,376 full-time-equivalent employees (FTE) to 12,415. (these are numbers for EPA in the government-wide budget from the Office of Management and Budget (OMBB) summary of the entire budget proposal, and EPA provides additional details on its own website).
This year's proposal is similar to the Administration's FY 2019 request, which proposed a 34% cut in EPA's budget, to $5.4 billion including 15,408 FTE (I wrote about it here), and its FY 2018 request, which proposed $5.7 billion for FY 2018, and 11,611 FTE (I wrote about here). Although presidents' annual budget proposals are rarely enacted in full – even in the years Congress passes a budget rather than a continuing resolution, and even in years in which the President's party controls Congress -- they do mark the formal start of annual considerations of federal policies and staffing. It's therefore useful to review where President Trump and recently-confirmed EPA Administrator Wheeler are continuing to try to take the agency.
Overarching Policies
This year's budget proposal continues to de-emphasize federal-level environmental regulation. The proposal identifies three overarching policy goals:
Goal 1 – Core Mission: Deliver real results to provide Americans with clean air, land, and water, and ensure chemical safety.

Goal 2 – Cooperative Federalism: Rebalance the power between Washington and the states to create tangible environmental results for the American people.

Goal 3 – Rule of Law and Process: Administer the law, as Congress intended, to refocus the Agency on its statutory obligations under the law.
The proposed budget applies these Goals to inform funding priorities, including wide-ranging proposals to eliminate existing programs that the Administration considers misguided, low-priority, and/or better left to states.
Funding Priorities
The proposal describes a number of Funding Priorities:
Infrastructure - improvements to drinking water and wastewater infrastructure as well as cleaning up contaminated land.

Improving Air Quality - support of the National Ambient Air Quality Standards (NAAQS) and implementation of stationary source regulations to support state, local, and tribal air quality programs; mobile source control efforts to focus on certification, testing and monitoring.

Clean and Safe Water – identifying sources of contamination, managing Total Maximum Daily Load (TMDL) establishment and management; efforts will continue EPA's recent emphasis on small and rural water systems.

Revitalizing Land – EPA will emphasize efforts to accelerate cleanups and promote site reuse (including through formal Brownfields programs).

Ensuring the Safety of Chemicals – EPA will continue efforts to meet expanded responsibilities under the 2016 amendments to the Toxic Substances Control Act (TSCA ), and ongoing pesticide regulatory responsibilities under the Federal Insecticide, Fungicide and Rodenticide Act (FIFRA).

Protecting our Children – these efforts focus on identification and reduction of lead exposures, especially to children.

Regulatory and Permitting Priorities – these cover efforts to streamline permitting, and reduce unnecessary delays.

Establishing New Fees – EPA is proposing additional user fees.
Eliminating Programs
For the third year in a row, EPA is proposing to eliminate an array of programs. For FY 2020 EPA identifies 37 programs and projects, and 4 sub programs/projects for elimination. These compare to last year's proposal to eliminate 35 programs and 4 major sub-programs, and included many of the same targets. A number of state grant, cooperation and assistance programs would be eliminated in order to "return responsibilities to states" which EPA points out could continue the efforts with state-only funding. Other activities would be absorbed by the regulatory programs with which they overlap. Proposed eliminations include:
Categorical grants – to states and tribes for certain regulatory and training programs including underground storage tanks, radon, lead reduction, beach protection, nonpoint source control, and pollution prevention.

Special programs – including environmental justice, environmental education, endocrine disruptors; and geographically-focused programs including those for the Gulf of Mexico, Long Island Sound, and South Florida.
Now What?
During the last two years, the Republicans controlled Congress, and rejected the Administration's massive cuts to EPA. This year, the Democrats control the House of Representatives and have declared most of the President's budget "dead on arrival." I therefore anticipate that few, if any, of the proposed changes will occur even if an EPA budget for FY 2020 is enacted. However, the Administration's continued policy preferences certainly affect the zeal with which President Trump's appointees pursue his environmental health and safety priorities.
Self-Assessment Checklist
Does the organization operate facilities subject to permits issued by EPA or the state, under direct or delegated authority of federal environmental laws (Clean Air Act, Clean Water Act, Resource Conservation and Recovery Act (RCRA), etc.)?
Does the organization manufacture, import or distribute chemical substances subject to TSCA?
Is the organization subject to cleanup requirements under direct or delegated authority of federal environmental laws (CERCLA, RCRA, etc,)?
Does the organization participate in EPA-sponsored voluntary programs subject to elimination?
Where Do I Go For More Information?
Information available via the Internet includes:
Specialty Technical Publishers (STP) provides a variety of single-law and multi-law services, intended to facilitate clients' understanding of and compliance with requirements.
About the Author
Jon Elliott is President of Touchstone Environmental and has been a major contributor to STP's product range for over 25 years.

Mr. Elliott has a diverse educational background. In addition to his Juris Doctor (University of California, Boalt Hall School of Law, 1981), he holds a Master of Public Policy (Goldman School of Public Policy [GSPP], UC Berkeley, 1980), and a Bachelor of Science in Mechanical Engineering (Princeton University, 1977).

Mr. Elliott is active in professional and community organizations. In addition, he is a past chairman of the Board of Directors of the GSPP Alumni Association, and past member of the Executive Committee of the State Bar of California's Environmental Law Section (including past chair of its Legislative Committee).
You may contact Mr. Elliott directly at: tei@ix.netcom.com