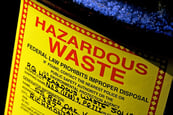 Federal laws (commonly referred to as RCRA, after the Resource Conservation and Recovery Act of 1976) provide comprehensive management requirements for parties involved in hazardous waste management, from "cradle to grave" covering generators, transporters, and offsite management facilities. Among these many provisions are requirements that "large quantity generators (LQGs)" submit biennial reports to the Environmental Protection Agency (EPA) or delegated states in March of every even-numbered year. March 2016 is the next such deadline, so now is a good time to review biennial report requirements.

Who Must File Biennial Reports?

A facility that was an LQG during calendar year 2015 must file a biennial report. LQGs are defined as a facility that generates either of the following during a calendar month:
1,000 kilogram (kg) or more of hazardous waste.

More than 1 kg per calendar month of acute hazardous waste (AHW).

More than 100 kg of soil or other material contaminated with AHW.
EPA's RCRA regulations apply these thresholds month by month, so a generator may meet LQG thresholds in one or more months but be a small quantity generator (SQG) in others. If a facility toggled between these levels during 2015 it must file a biennial report covering the entire year (note that EPA has proposed changes in generator requirements that would include a provision allowing generators one exceedance of monthly cleanup limit, but that's not likely to be finalized before this March 1. I blogged about the proposal here and here).
In addition, a facility that treated, stored or disposed of hazardous waste onsite during 2015 (a "TSD Facility") must also file a biennial report.
What Is Required In A Biennial Report?
LQGs must file biennial reports are due March 1 of each even-numbered year on EPA Form 8700-13 (RCRA Subtitle C Site Identification Form) plus additional associated forms as appropriate:
Site ID Form (RCRA Subtitle C Site Identification Form) – general information

Item 1 - reason for submitting the form

Item 2 - site EPA Identification Number

Item 3 - site's name

Item 4 – site physical location

Item 5 – site land type

Item 6 – site North American Industry Classification System (NAICS) code(s)

Item 7 - site mailing address for your site

Item 8 - name, title, address, phone number, fax, and e-mail of a contact person

Item 9 - name, address, and phone number of site legal owner(s) and name of site operator(s)

Item 10 - site regulated waste activities (enter all that apply)

Item 11 - description of hazardous waste

Item 12 - site hazardous secondary material activity, if any

Item 13 - additional comments on Items 1 – 12

Item 14 - certification that the information provided throughout the form is truthful, accurate, and complete

Addendum to the Site Identification Form – notification of hazardous secondary material activity.
WR Form (Waste Received From Off-site Form(s)) – if applicable.

Item A – waste description

Item B – EPA hazardous waste code(s)

Item C – state hazardous waste code(s)

Item D – off-site handler EPA identification number

Item E – quantity received in 2015

Item F – unit of measure and density

Item G – form code

Item H – management method code.
OI Form (Off-site Identification Form(s)) – if applicable and facility's state requires

other sites to which hazardous waste was sent or from which it was received
The facility submits its report to the applicable hazardous waste agency (EPA or the state).
Implementation Checklist
Does the organization have one or more facilities that generate sufficient hazardous waste to qualify as LQGs?

Has the organization compiled information for each such facility about waste generation and management activities during 2015?

Has each LQG facility submitted a hazardous waste biennial report for 2015?

Where Can I Go For More Information?


Specialty Technical Publishers (STP) provides a variety of single-law and multi-law services, intended to facilitate clients' understanding of and compliance with requirements. These include:
About the Author

Jon Elliott is President of Touchstone Environmental and has been a major contributor to STP's product range for over 25 years. He was involved in developing 12 existing products, including Environmental Compliance: A Simplified National Guide and The Complete Guide to Environmental Law.
Mr. Elliott has a diverse educational background. In addition to his Juris Doctor (University of California, Boalt Hall School of Law, 1981), he holds a Master of Public Policy (Goldman School of Public Policy [GSPP], UC Berkeley, 1980), and a Bachelor of Science in Mechanical Engineering (Princeton University, 1977).
Mr. Elliott is active in professional and community organizations. In addition, he is a past chairman of the Board of Directors of the GSPP Alumni Association, and past member of the Executive Committee of the State Bar of California's Environmental Law Section (including past chair of its Legislative Committee).
You may contact Mr. Elliott directly at: tei@ix.netcom.com.