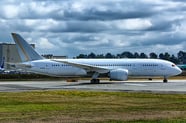 On July 25, the Environmental Protection Agency (EPA) issued a formal finding under the Clean Air Act (CAA), that greenhouse gas (GHG) emissions from aircraft "endanger public health or welfare." This aircraft-specific finding builds on EPA's 2009 finding that GHGs endanger public health, covering the same six GHGs: carbon dioxide (CO2), methane, nitrous oxide, hydrofluorocarbons, perfluorocarbons, and sulfur hexafluoride. EPA calculates that aircraft produce 12 percent of all U.S. transportation GHG emissions and more than 3 percent of total U.S. GHG emissions, and that U.S. aircraft GHG emissions represent 29 percent of all global aircraft GHG emissions and 0.5 percent of total global GHG emissions.
EPA is also supporting development of an international emission standard for CO2 from aircraft, which is being developed by the United Nations' International Civil Aviation Organization (ICAO). EPA anticipates that ICAO will approve a final CO2 emissions standard in October 2016, for formal adoption in March 2017. The ICAO draft seeks would require improvements in fuel efficiency of some four percent (by 2028, compared to 2015), to produce concomitant reductions in CO2 emissions. If the international standard is adopted, EPA's US national standard would have to be at least as stringent (existing national standards for other air pollutants were developed with reference to comparable international standards).
What's The Effect of This Finding?
The new finding provides the legal basis for EPA to establish controls on GHG emissions from aircraft. However, readers should note that the only duty created by the finding is a duty on EPA itself, to adopt rules to address the danger it has just found. Once adopted, those rules presumably will apply to manufacturers of aircraft engines, and may apply to aircraft manufacturers and to operations and maintenance as well. Since President Obama leaves office in six months, the future of those rules will be decided by the next President's EPA – it seems reasonable to guess that President Clinton would proceed with the rulemaking but that President Trump would not.
Self-Evaluation Checklist
Does the organization manufacture, operate or maintain aircraft, or plan to do so?
Does the organization evaluate GHG emissions associated with transportation of its products or personnel?
Where Can I Go For More Information?
EPA web portal for Aircraft, including the text of the finding
Specialty Technical Publishers (STP) provides a variety of single-law and multi-law services, intended to facilitate clients' understanding of and compliance with requirements. These include:
About the Author
Jon Elliott is President of Touchstone Environmental and has been a major contributor to STP's product range for over 25 years. He was involved in developing 13 existing products, including Environmental Compliance: A Simplified National Guide and The Complete Guide to Environmental Law.
Mr. Elliott has a diverse educational background. In addition to his Juris Doctor (University of California, Boalt Hall School of Law, 1981), he holds a Master of Public Policy (Goldman School of Public Policy [GSPP], UC Berkeley, 1980), and a Bachelor of Science in Mechanical Engineering (Princeton University, 1977).
Mr. Elliott is active in professional and community organizations. In addition, he is a past chairman of the Board of Directors of the GSPP Alumni Association, and past member of the Executive Committee of the State Bar of California's Environmental Law Section (including past chair of its Legislative Committee).
You may contact Mr. Elliott directly at: tei@ix.netcom.com.