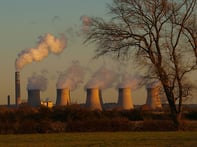 The Trump-era Environmental Protection Agency (EPA) has proposed to repeal and replace another of the Obama-era EPA's signature efforts to reduce greenhouse gas (GHG) emissions. EPA has now proposed an "Affordable Clean Energy Rule", to replace the "Clean Energy Plan" adopted in 2015 but stayed by litigation. The new rule softens the mandates in the earlier rule, and offers states more flexibility to design their own efforts to control greenhouse gas (GHG) emissions from existing fossil fuel-fired electricity generating units (EGUs) by eliminating Clean Power Plan requirements that states consider operational changes "outside the fenceline" of the regulated EGUs.
What Would the Clean Power Plan Have Done?
As adopted in October 2015, the Clean Energy Plan provided interim and final carbon dioxide (CO2) emission performance rates for two subcategories of fossil fuel-fired EGUs (coal- and oil-fired power plants, and natural gas-fired combined cycle generating units). The rates were based on EPA's assessment of the best system of emissions reduction (BSER) for each type -- developed by assessing opportunities to improve EGUs' efficiency, to substitute gas-fired units for other fossil fuel units, and to substitute renewables such as solar and wind for fossil fuel EGUs – and then aggregated to create statewide rates for each state with any of these units. EPA also developed a menu of policy options that states could apply to meet the statewide rates, including inter-source trading systems. EPA then assigned states to develop plans to ensure that subject EGUs within their boundaries would meet the interim standards during 2022-2029, and the final rates beginning in 2030. EPA gave states one year (until 9/16) to prepare and submit draft plans, and a total of 3 years (until 9/18) to prepare and submit final plans.
At the time, EPA argued that this evidence-based state-level approach provided greater flexibility and opportunities for cost efficiencies than traditional source-by-source regulation. Opponents argued that this expanded scope exceeded EPA's Clean Air Act (CAA) authority. States and utilities appealed, and in February 2016 the US Supreme Court stayed the rule pending further litigation in the District of Columbia Circuit (West Virginia v. EPA). The stay has remained in force during further procedural wrangling in court, and an extensive review of the rule undertaken by EPA since the Trump administration took office in January 2017.
What Does the Affordable Clean Energy Rule Propose?
EPA has spent over a year reviewing the Clean Power Plan, and is now proposing significant changes in the new Affordable Clean Energy Rule:
BSER for GHG emissions from existing coal-fired EGUs would be defined as heat-rate efficiency improvements (HRIs) "inside the fence-line" at each EGU, based on the following set of "candidate technologies:"

Neural Network/Intelligent Sootblowers

Boiler Feed Pumps

Air Heater and Duct Leakage Control

Variable Frequency Drives

Blade Path Upgrade (Steam Turbine)

Redesign/Replace Economizer

Improved Operating and Maintenance Practices
No BSER for natural gas-fired EGUs; instead EPA is seeking additional comments

States will have three years after the Rule is finalized to prepare and submit a plan that establishes a standard of performance for each coal-fired EGU, after review and application of candidate technologies.

EPA would also revise New Source Review (NSR) standards to clarify the range of on-site physical and operational modifications that EGUs could make without being a "major modifications" that trigger NSR and its more extensive upgrade and permitting requirements.
EPA asserts that these narrower approaches are more consistent with the agency's CAA authority, and that they minimize the extent that non-market-based considerations may affect the continued operations of coal-fired EGUs. In doing so, EPA acknowledges that coal-fired electricity production is declining in the face of lower costs for natural gas and renewables, and expects this trend to continue. The proposal also makes controversial changes to the assumed impacts on GHG emissions, and on values of health and economic factors, when estimating the costs and benefits of the proposal.
Now What?
Comments are due by October 30, 2018. Once EPA finalizes its proposal, I have no doubt that further litigation will ensue.


Self-Assessment Checklist
Does the organization own or operate any facility with any existing EGU? and if so:
Do any of the EGUs burn coal to generate electricity?

Do any of the EGUs burn natural gas to generate electricity?

Do any of the EGUs use renewables (solar, wind, etc.)?
Does the organization have any facilities that purchase electricity from an electric utility that operates fossil fuel-fired EGUs, and if so has it evaluate trends in purchased electricity costs?
Where Can I Go For More Information?
Specialty Technical Publishers (STP) provides a variety of single-law and multi-law services, intended to facilitate clients' understanding of and compliance with requirements. These include:
About the Author

Jon Elliott is President of Touchstone Environmental and has been a major contributor to STP's product range for over 25 years. He was involved in developing Environmental Compliance: A Simplified National Guide and The Complete Guide to Environmental Law.

Mr. Elliott has a diverse educational background. In addition to his Juris Doctor (University of California, Boalt Hall School of Law, 1981), he holds a Master of Public Policy (Goldman School of Public Policy [GSPP], UC Berkeley, 1980), and a Bachelor of Science in Mechanical Engineering (Princeton University, 1977).

Mr. Elliott is active in professional and community organizations. In addition, he is a past chairman of the Board of Directors of the GSPP Alumni Association, and past member of the Executive Committee of the State Bar of California's Environmental Law Section (including past chair of its Legislative Committee).
You may contact Mr. Elliott directly at: tei@ix.netcom.com
photo credit: johnb/Derbys/UK full-steam-up? via photopin (license)