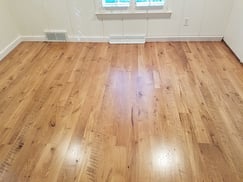 EPA has just issued final rules to limit exposure to formaldehyde emissions from plywood and other laminated and composite wood products. The Formaldehyde Emission Standards for Composite Wood Products Act of 2010 ("the Act", which is codified as Title VI of the Toxic Substances Control Act ("TSCA")) required EPA to develop these rules. The Act responded to evidence of dangerous emissions from substandard construction products, publicized particularly by health hazards in temporary trailers provided by the Federal Emergency Management Agency (FEMA) to victims of Hurricane Katrina and other natural disasters. The Act established standards based on California rules, and directed EPA to issue nationwide rules by January 1, 2013 to enforce these standards. EPA missed its deadline, but has just announced rules that will become effective after publication in the Federal Register (probably in August 2016).
What is Formaldehyde and How is it Hazardous?
Formaldehyde is a colorless gas at room temperature, with a strong odor. It can irritate the skin, eyes, nose, and throat, and the federal government considers it to be a "known human carcinogen." It is used in the production of fertilizer, paper, plywood, and urea-formaldehyde resins. It is also used as a preservative in some foods and in many household products (including antiseptics, medicines, and cosmetics). The Act applies to formaldehyde used in resins bonding laminated and composite wood products, from which evaporation can produce hazardous indoor air quality contamination.
What Requirements Were Already in Place?
Formaldehyde is a hazardous air pollutant (HAP) under the federal Clean Air Act (CAA). California's Air Resources Board (ARB) designated formaldehyde as a toxic air contaminant (TAC) under analogous state law. In 2008, ARB issued an Airborne Toxic Control Measure (ATCM) for formaldehyde emissions from composite wood products, with compliance measures required in Phases beginning January 1, 2009. EPA has not established controls under the CAA, but the Occupational Safety and Health Administration (OSHA) has issued a Formaldehyde Standard, which includes workplace ambient air limits.
The Act establishes formaldehyde emission standards identical to the ARB ATCM's "Phase 2" standards for hardwood plywood with a composite or veneer core, medium-density fiberboard, and particleboard that is sold, supplied, offered for sale, or manufactured in the United States (i.e., California's standards become national standards). It also directs EPA to issue final implementing regulations by January 1, 2013, creating compliance and enforcement structures to ensure that these standards are met. Although EPA missed that deadline, the new regulations are designed to accomplish this goal.
What Do EPA's New Regulations Require?
EPA's new rules include detailed provisions relating to:
Labeling

Chain of custody requirements

Sell-through provisions

Ultra low-emitting formaldehyde resins (ULEF)

No-added formaldehyde-based resins (NAF)

Finished goods

Third-party testing and certification

Auditing and reporting of third-party certifiers

Recordkeeping

Enforcement

Laminated products

Exceptions from the requirements of regulations promulgated pursuant to this subsection for products and components containing de minimis amounts of composite wood products.
EPA specifies coverage for the new rules:
The following products are covered:
Hardwood plywood

Medium-density fiberboard

Particleboard
The following products are not covered by regulation:
Hardboard

Structural plywood

Structural panels

Structural composite lumber

Military-specified plywood

Curved plywood

Oriented strand board

Prefabricated wood I-joists

Finger-jointed lumber

Wood packaging, such as pallets, crates, spools, and/or dunnage

Composite wood products used inside a new vehicle other than a recreational vehicle, such as rail cars, boats, and aircraft

Windows that contain composite wood products if the windows contain less than 5% composite wood product by volume

Exterior doors and garage doors that contain composite wood products, if the doors are made from composite wood products manufactured with NAF or ULEF resins, or the doors contain less than 3% composite wood product by volume.
One year after the rule is published in the Federal Register, composite wood products that are sold, supplied, offered for sale, manufactured, or imported in the United States will need to be labeled as TSCA Title VI compliant.
EPA's rules rule also establish a third-party certification program for laboratory testing and oversight of formaldehyde emissions from manufactured and/or imported composite wood products.
Self-Evaluation Checklist
Does the organization manufacture, import and/or process any product subject to EPA's new rule, or intend to do so?
Does the organization use or intend to use any chemical substance subject to process any product subject to EPA's new rule?
Where Can I Go For More Information?
Specialty Technical Publishers (STP) provides a variety of single-law and multi-law services, intended to facilitate clients' understanding of and compliance with requirements. These include:
About the Author

Jon Elliott is President of Touchstone Environmental and has been a major contributor to STP's product range for over 25 years. He was involved in developing 13 existing products, including Environmental Compliance: A Simplified National Guide and The Complete Guide to Environmental Law.
Mr. Elliott has a diverse educational background. In addition to his Juris Doctor (University of California, Boalt Hall School of Law, 1981), he holds a Master of Public Policy (Goldman School of Public Policy [GSPP], UC Berkeley, 1980), and a Bachelor of Science in Mechanical Engineering (Princeton University, 1977).
Mr. Elliott is active in professional and community organizations. In addition, he is a past chairman of the Board of Directors of the GSPP Alumni Association, and past member of the Executive Committee of the State Bar of California's Environmental Law Section (including past chair of its Legislative Committee).
You may contact Mr. Elliott directly at: tei@ix.netcom.com.