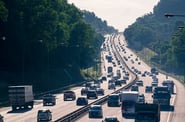 On April 2, the US Environmental Protection Agency (EPA) announced that it has completed its "midterm evaluation" of greenhouse gas (GHG) emissions standards for cars and light trucks for model years 2022-2025, has decided to withdraw standards agreed to between the Obama Administration and California during 2016, and will conduct additional rulemaking to consider less stringent standards. This review began in March 2017, soon after President Trump appointed Scott Pruitt as EPA administrator with a mandate to reduce regulation. California, which has special authority under the federal Clean Air Act (CAA), is leading a coalition of states that has already sued to stop the change. In response to this push-back, President Trump has ordered federal agencies to negotiate with California to seek a compromise.
How Were These Vehicle Emission Standards Set?
CAA addresses emissions of pollutants, but not vehicle efficiency as such. Instead, the National Highway Traffic Safety Administration (NHTSA) sets national vehicle fuel economy standards for vehicle makers fleets, under authority of the Energy Conservation Act of 1975. These include the Corporate Average Fuel Economy (CAFÉ) standards. EPA and NHTSA coordinate their rulemaking activities – more efficient cars tend to emit fewer pollutants, for example. EPA also generally cooperates with the California Air Resources Board (ARB); because California began setting state standards before EPA gained national authority in 1977, CAA gives the state authority to set new standards if EPA agrees that local conditions justify them (formally: California sets a standard, and applies to EPA for a waiver from nationwide preemption by claiming special state-level conditions; these usually relate to vehicular air pollution in the Los Angeles basin but were extended by the Obama administration to include GHG standards). Once California adopts a standard, a dozen other states typically adopt it, so a California-based standard quickly covers a third of the country's population.
In 2010, EPA and NHTSA set national standards for GHG emissions from light duty vehicles for 2012-2016. In 2012, they adopted standards for subsequent years in two phases, 2017-2021 (Phase 1) and 2022-2025 (Phase 2), promising a mid-term review of the Phase 2 standards.
Longstanding EPA regulations provide for periodic review of vehicle standards, and establish factors to be considered. Three days before President Obama left office, on January 17, EPA concluded its review and reaffirmed that the 2022-2025 standards were technically and economically feasible for auto makers to meet and cost-effective for customers. Eight weeks later the new administration reopened that decision.
The revised evaluation takes issue with EPA's 2017 conclusions, focusing on two of the required factors:
The availability and effectiveness of technology, and the appropriate lead time for introduction of technology.

The feasibility and practicability of the standards.
EPA's latest announcement points particularly to:
The changes in trends of electrification since the January 2017 Determination – slower acceptance of electric vehicles makes it harder to meet fleet-wide emission standards.

The reliance on future technology advances in that Determination – which EPA now finds likely to be overly optimistic as to price and effectiveness.

The projected acceptance rate of the necessary technology by consumers – which EPA also now finds likely to be overly optimistic.
What's Next?
EPA and NHTSA plan to begin a new rulemaking to re-review 2022-2025 standards, with expectation that less stringent standards will be adopted. If they do so, California has stated its intention to retain the stricter standards, which will require the state to seek a CAA waiver from EPA – assuming EPA rejects that petition then litigation will ensue (meanwhile, California and other states have sued to short-circuit this process by blocking the EPA/NHTSA reopening). Unless one side or the other wins an early court victory, the litigation could drag on for years, complicating auto makers efforts to design and sell vehicles that will meet the CAFÉ standards.
Self-Assessment Checklist
Does the organization manufacture or import light duty vehicles?
Does the organization use light duty vehicles in its activities, and plan to buy or lease new vehicles during the next decade?
Where Do I Go For More Information?
Information available via the Internet includes:
Specialty Technical Publishers (STP) provides a variety of single-law and multi-law services, intended to facilitate clients' understanding of and compliance with requirements. These include:
About the Author
Jon Elliott is President of Touchstone Environmental and has been a major contributor to STP's product range for over 25 years. He was involved in developing 13 existing products, including Environmental Compliance: A Simplified National Guide and The Complete Guide to Environmental Law.

Mr. Elliott has a diverse educational background. In addition to his Juris Doctor (University of California, Boalt Hall School of Law, 1981), he holds a Master of Public Policy (Goldman School of Public Policy [GSPP], UC Berkeley, 1980), and a Bachelor of Science in Mechanical Engineering (Princeton University, 1977).

Mr. Elliott is active in professional and community organizations. In addition, he is a past chairman of the Board of Directors of the GSPP Alumni Association, and past member of the Executive Committee of the State Bar of California's Environmental Law Section (including past chair of its Legislative Committee).
You may contact Mr. Elliott directly at: tei@ix.netcom.com