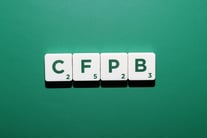 On May 21, President Trump signed legislation (Senate Joint Resolution (SJR) 57) disapproving compliance guidance issued by the Consumer Financial Protection Bureau (CFPB) in March 2013 as advice about compliance issues under the fair lending requirements of the Equal Credit Opportunity Act. This disapproval applies the Congressional Review Act (CRA), which requires agencies to provide Congress with information about newly-adopted rules, and then gives Congress 60 days to pass a resolution disapproving the rulemaking. (I wrote about this legislation and procedures here). In order to stretch its 60 day opening to over 60 months, Congress has for the first time expanded the meaning of "rule" to include guidance that Congress determines should have been acknowledged as a rule. Because CFPB treated its guidance as guidance, the agency did not submit rule-related information to Congress, which has now decided that failure means the 60 day time limit was never triggered and Congress was within its authority to disapprove this "rule."
While readers may not have come to this website to learn about auto loans, you should be interested to know that Congress now claims the authority to reach back years to overturn agency guidance that Congress determines is an inadequately-documented "rule." While considering the real world implications of this change, and contrary to some breathless reporting, readers should remember that for the time being these situations involve non-formal guidance administered by agencies run by President Trump's appointees, which can change guidance on their own initiative without waiting for Congress to act.
What is a "Rule" For Purposes of the Congressional Review Act?
With three minor exceptions, the Congressional Review Act adopts the broad definition of "rule" provided in the federal Administrative Procedures Act (APA), which governs rulemaking by federal agencies. The APA (5 USC section 551(4)) defines "rule" as follows:
"rule" means the whole or a part of an agency statement of general or particular applicability and future effect designed to implement, interpret, or prescribe law or policy or describing the organization, procedure, or practice requirements of an agency and includes the approval or prescription for the future of rates, wages, corporate or financial structures or reorganizations thereof, prices, facilities, appliances, services or allowances therefor or of valuations, costs, or accounting, or practices bearing on any of the foregoing[.]"
What is a "statement of general or particular applicability and future effect" and how does it affect Congressional authority? Congressional leaders asked the Government Accountability Office (GAO) – an analytical organization that works for Congress – for an interpretation. In December 2017, GAO's General Counsel provided his answer in a 7 page memorandum, concluding that this "… nonbinding general statement of policy, which provides guidance on how CFPB will exercise its discretionary enforcement powers, is a rule under CRA." Accordingly, "We reached our conclusion in the Interagency Guidance decision, and in other prior GAO decisions, by examining CRA's definition of a "rule," which includes 'the whole or a part of an agency statement of general or particular applicability and future effect designed to implement, interpret, or prescribe law or policy.' This definition has three key components: (1) an agency statement, (2) of future effect, and (3) designed to implement, interpret, or prescribe law or policy. We noted that this definition is broad, and includes both rules requiring notice and comment rulemaking and those that do not, such as general statements of policy."
How Do I Respond to This New Approach?
Readers should think about the implications of this approach to CRA, under which Congress and the President can "disapprove" and thereby overturn a federal agency's statement of policy:
Disapproval of a non-binding general policy formalizes these elected officials' preferences – but it's extremely likely that these preferences have been expressed in other public and private venues, perhaps include Congressional oversight and budget hearings.

The repudiation of an agency's stated general approach does not directly affect the approach an agency may take in a particular enforcement matter (although, again, it clarifies that there may be political consequences).

Guidance information issued by agencies can provide important indications to help regulated entities minimize compliance problems, so the removal of such guidance adds uncertainly to compliance efforts.

This may chill agencies' willingness to issue guidance, if full APA- and CRA-compliant procedural requirements must be followed.

For the time being, Congressional majorities, and President Trump and his appointed agency managers, tend to share perspectives on regulation and enforcement, so the "rules" most likely to be disapproved and repudiated are those that agencies could rescind on their own anyway.
I'm left to wonder why the present head of CFPB did not direct his staff to rescind the policy. Perhaps this is a unique situation: the holdover Director Richard Cordray, appointed by President Obama, had continued the former administration's priorities until resigning to run for Governor of Ohio, and the present Acting Director Mike Mulvaney was involved in a disputed transition involving another Acting Director during selected by Cordray. In general, I hope I'm not too naïve when I expect that Presidential appointees can direct their agencies' general policies without Congressional intervention.

Self-Assessment Checklist

Is the organization subject to any federal regulation?

If so, has the administering and/or enforcing agency issued any guidance to regulated entities, indicating its general approach to any compliance issues under its jurisdiction?

If so, have the present Congressional majority and President Trump expressed disagreement with a publicly announced agency policy that the agency would for some reason have difficulty rescinding on its own initiative?

Where Can I Go For More Information?


Specialty Technical Publishers (STP) provides a variety of single-law and multi-law services, intended to facilitate clients' understanding of and compliance with requirements. These include:

About the Author

Jon Elliott is President of Touchstone Environmental and has been a major contributor to STP's product range for over 25 years. He was involved in developing 13 existing products, including Environmental Compliance: A Simplified National Guide and The Complete Guide to Environmental Law.

Mr. Elliott has a diverse educational background. In addition to his Juris Doctor (University of California, Boalt Hall School of Law, 1981), he holds a Master of Public Policy (Goldman School of Public Policy [GSPP], UC Berkeley, 1980), and a Bachelor of Science in Mechanical Engineering (Princeton University, 1977).

Mr. Elliott is active in professional and community organizations. In addition, he is a past chairman of the Board of Directors of the GSPP Alumni Association, and past member of the Executive Committee of the State Bar of California's Environmental Law Section (including past chair of its Legislative Committee).
You may contact Mr. Elliott directly at: tei@ix.netcom.com