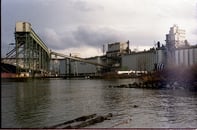 In December 2015, representatives of 195 countries agreed to continue to expand global efforts to combat climate change. The new Paris Agreement broke a longstanding impasse with a clever mixture of binding but unenforceable commitments, contemporary agreements, and ongoing agreements-to-agree (I wrote about the Agreement here). Since then, analysts have estimated that full implementation of these national targets would reduce greenhouse gas (GHG) emissions by about half the amounts necessary to accomplish the Agreement's stated goal by holding average global temperature increases below 2o C. Incomplete national successes – President Trump's decision to back off U.S. commitments is the first and most obvious example – would leave even more to be done.

The Paris Agreement anticipated that sub-national governments and private organizations would contribute to global progress, by meeting and often exceeding national requirements (I wrote about formal United Nations programmatic expectations here).

One of the non-governmental efforts is the Science Based Targets Initiative, through which individual companies can set GHG-reduction goals. At latest report, over 300 companies participate.

What is the Science Based Targets Initiative?
The Initiative is a multi-sector collaboration among the following international organizations: CDP (formerly called the Carbon Disclosure Project), World Resources Institute (WRI), the World Wide Fund for Nature (WWF; formerly World Wildlife Fund), and the United Nations Global Compact (UNGC). Participation in the Initiative is also identified as one of the commitments under the We Mean Business Coalition, which is another international business initiative. The Initiative defines "science-based targets" by reference to the Initiative's effort to support the 2o C target (which the Initiative refers to as the "2°C pathway"):
Targets adopted by companies to reduce greenhouse gas (GHG) emissions are considered "science-based" if they are in line with the level of decarbonization required to keep global temperature increase below 2 degrees Celsius compared to pre- industrial temperatures, as described in the Fifth Assessment Report of the Intergovernmental Panel on Climate Change (IPCC AR5).
How Does an Organization Define and Select a "Science-Based Target?
To identify a "science-based target", a company selects one or more emission reduction goals that applicable climate models indicate are consistent with reductions required for the 2°C decarbonization pathway. The Initiative uses a "sectoral decarbonization approach (SDA)", which is a multi-step analytical framework that:
Applies the UN's global carbon emissions budget calculated to be consistent with keeping global warming below 2°C.

Allocates the 2°C carbon budget to different economic sectors.

Applies UN estimates of carbon-intensity to calculate existing per-unit GHG emissions by sector and by identified activities within a sector, and levels that would produce a sector's proportional contribution to the 2°C pathway.

Creates a framework for an organization to create an inventory of its present and planned activities, including associated emissions.

Calls upon a would-be participant to identify emission-reduction activities consistent with a proportional contribution to the 2°C pathway
The Initiative compiles sector-based information, including aggregate emission levels and budgets, and activity-based emission levels and budgets. It also provides an "SDA Tool" – Version 8 is available on its website as a web-based tool.

An individual organization commits to participate by completing the following steps:

Step 1. Sign and submit the commitment letter – based on the Initiative's "Call to Action"

Step 2. Develop a target – within 24 months, following a multi-step process prescribed by the Initiative

Step 3. Submit the target for a Quality Check – by the Initiative, consistent with its methodologies

Step 4. Announce the target
The key to these activities are accurate inventories of activities, which allow for calculation of existing emissions and for projections of emission reductions achievable by specified changes in those activities. (I've written about GHG emissions inventories several times, including here).

What are the Initiative's Overall Objectives?
The Initiative has the following strategic objectives:

By 2018, at least 300 high-impact companies, representing at least 2 GT of emissions, will have committed to adopt science-based GHG emission reduction targets and more than 100 of these companies will have approved science-based targets.

By 2020, at least 300 high-impact companies, representing at least 2 GT of emissions, will have science-based emission reduction targets in place.

Science-based target setting will be embedded in key mechanisms and platforms that lead to the widespread and sustained adoption of GHG emission reduction targets in line with science as a standard business practice in priority regions and sectors.

In support of the Paris Agreement, science-based targets from leading companies demonstrate to policy-makers the scale of emission reductions that are achievable to positively influence international climate negotiations and domestic climate policy.
What Should an Organization Do?
An organization may decide to endorse the Initiative's specific approaches and join the growing list of participants. Even if an organization chooses not to do so, the Initiative's approach represents yet another example of the trend toward voluntary preparation of GHG emission inventories and the identification – and even implementation – of innovations intended by the organization to reduce total emissions.

Self-Assessment Checklist
Has the organization identified activities that cause GHG emissions?

Does my organization compile this information:
For internal use in managing our activities?

For internal use in setting goals?

For external publication and/or reporting to specific third parties (such as customers or shareholders) and/or the general public?
Does my organization develop approaches to reducing its GHG emissions?
In response to governmental requirements?

In response to requests or requirements from customers?

In order to enhance its reputation among stakeholders and/or with the public?
Has the organization compared its emissions and emission-reduction activities to sector-based national and international practices?

Where Can I Go For More Information?


Specialty Technical Publishers (STP) provides a variety of single-law and multi-law services, intended to facilitate clients' understanding of and compliance with requirements. These include:
About the Author
Jon Elliott is President of Touchstone Environmental and has been a major contributor to STP's product range for over 25 years. He was involved in developing 13 existing products, including Environmental Compliance: A Simplified National Guide and The Complete Guide to Environmental Law.

Mr. Elliott has a diverse educational background. In addition to his Juris Doctor (University of California, Boalt Hall School of Law, 1981), he holds a Master of Public Policy (Goldman School of Public Policy [GSPP], UC Berkeley, 1980), and a Bachelor of Science in Mechanical Engineering (Princeton University, 1977).

Mr. Elliott is active in professional and community organizations. In addition, he is a past chairman of the Board of Directors of the GSPP Alumni Association, and past member of the Executive Committee of the State Bar of California's Environmental Law Section (including past chair of its Legislative Committee).
You may contact Mr. Elliott directly at: tei@ix.netcom.com