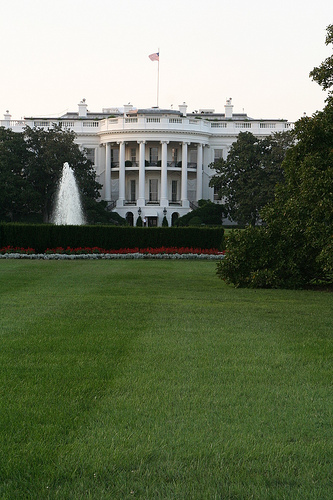 Recent U.S. Presidents have issued a series of executive orders (EOs) that steadily expand federal agencies' responsibilities to conduct their own activities in environmentally sound ways. President Clinton issued a number of EOs during 1993-1999 as part of "Greening the Government," which were expanded upon and superseded by President George W. Bush's 2007 EO Number 13423 "Strengthening Federal Environmental, Energy, and Transportation Management." Since taking office, President Obama has continued these expansions. Last month, he issued EO Number 13693 to require "Planning for Federal Sustainability in the Next Decade." This EO also revokes a number of President Obama's own relevant EOs, and President Bush's EO Number 13423.
This new EO updates policies, and provides federal agencies with a series of deadlines and targets over the next ten years.
What Policies Does This EO Establish?
This EO states that federal agencies can reduce greenhouse gas (GHG) emissions by at least 40 percent over the next decade, while also fostering innovation, reducing spending, and strengthening communities. Accordingly, the EO reaffirms a policy that agencies "increase efficiency and improve their environmental performance." To do so, the EO provides the following priorities:
Reducing energy use and cost.

Finding renewable or alternative energy solutions.
These efforts will be guided by environmental performance goals for agencies, including reductions in GHG emissions by federal operations and by entities in their supply chains.
What Sustainability Goals Must Federal Agencies Pursue?
The EO requires each federal agency to do all of the following, "where life-cycle cost-effective", beginning in Fiscal Year 2016 (i.e., as of October 1, 2015):
Promote building energy conservation, efficiency, and management.

Ensure that "clean energy" (renewables and alternative energy), contribute growing portions of total agency energy consumption, ramping from 10% in 2016-2017 to at least 25% in 2025 and thereafter.

Ensure that building electricity consumption contributed from renewables increases, ramping from 10% in 2016-2017 to at least 30% in 2025 and thereafter.

Improve agency water use and efficiency (including stormwater management) by reducing gallons per gross square foot of space by at least 2% per year through 2025, calculated separately for both potable water and for industrial, landscaping and agricultural water, and by installing meters and other appropriate green infrastructure features.

Improve agency vehicle fleet performance (for agencies with at least 20 vehicles), to reduce GHG emissions by at least 4% by the end of fiscal year 2017, 15% by 2021, and 30% by 2025.

Improve building efficiency, performance and management, by implementing detailed planning, acquisition and management activities in the EO.

Promote sustainable acquisition and procurement of other goods and services, in compliance with detailed performance criteria in the EO.

Advance waste prevention and pollution prevention for solid and hazardous materials and wastes, in compliance with detailed performance criteria in the EO.
How Will These Activities Be Coordinated?
The EO assigns responsibilities and establishes deadlines and milestones:
Each agency:

By June 2015, each agency is provide the Council on Environmental Quality (CEQ) and Office of Management and budget (OMB) with proposed agency-wide reductions in GHG emissions by 2025, below 2008 levels, for the following categories of emissions:

"Scope 1" – direct GHG emissions associated with the agency's activities.

"Scope 2" – indirect GHG emissions by producers and suppliers of purchased energy (usually electricity) consumed by the agency.

"Scope 3" – indirect GHG emissions by activities of other third parties associated with the agency (including upstream emissions by suppliers and downstream emissions from end users and from product/waste disposal).

Fulfill sustainability responsibilities created by this EO, under direction of an agency Chief Sustainability Officer.

CEQ and OMB are to establish a Federal Interagency Sustainability Steering Committee to advise on agency-level activities; review and approve the agencies' proposed Scope 1/2/3 GHG reduction goals, issue reporting metrics and implementing instructions for agencies (beginning August 2015 and thereafter as needed), establish annual performance reports and awards.

Federal Chief Sustainability Officer (renamed by this EO from Federal Environmental Executive) will chair the Steering Committee, coordinate and cooperate in sustainability activities, and monitor agency-level and government-wide activities.

Office of Personnel Management, by September 2015, is to initiate inclusion of "environmental sustainability and climate preparedness and resilience" into federal leadership and educational programs, and "consider" whether to establish a dedicated federal occupational series for sustainability professionals.
Self-Assessment Checklist
Although the EO applies directly only to federal agencies, it reflects the latest developments in design and implementation of entity-level sustainability programs. Readers who do not work for the federal government can assess their organization's activities against this benchmark.
Has my organization created formal goals for:
Reducing energy use?

Increasing use of renewable and alternate energy sources to reduce use of fossil fuels?

Evaluating and reducing GHG emissions from the organization's activities (including Scopes 1, 2, and/or 3)?
Has my organization assigned responsibilities for these activities to one or more individuals?
Does my organization implement these activities, and track performance in order to compare goals to accomplishments?
Does my organization coordinate within organizational units, and with outside organizations?
Does my organization report on its plans, goals, activities, and accomplishments?
Where Can I Go For More Information?
Executive Order No. 13693 (in Federal Register)

Federal Facilities Environmental Stewardship and Compliance Assistance Center ("FedCenter") webpage for EO 13693

FedCenter webpage for EO 13423 (with useful background)
Specialty Technical Publishers (STP) provides a variety of single-law and multi-law services, intended to facilitate clients' understanding of and compliance with requirements. These include:
About the Author

Jon Elliott is President of Touchstone Environmental and has been a major contributor to STP's product range for over 25 years. He was involved in developing 12 existing products, including Environmental Compliance: A Simplified National Guide and The Complete Guide to Environmental Law.
Mr. Elliott has a diverse educational background. In addition to his Juris Doctor (University of California, Boalt Hall School of Law, 1981), he holds a Master of Public Policy (Goldman School of Public Policy [GSPP], UC Berkeley, 1980), and a Bachelor of Science in Mechanical Engineering (Princeton University, 1977).
Mr. Elliott is active in professional and community organizations. In addition, he is a past chairman of the Board of Directors of the GSPP Alumni Association, and past member of the Executive Committee of the State Bar of California's Environmental Law Section (including past chair of its Legislative Committee).
You may contact Mr. Elliott directly at: tei@ix.netcom.com.