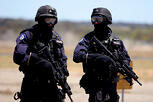 Although most "workplace violence" incidents are low-level psychological or physical altercations between co-workers, Canadians have just been tragically reminded of the dangers of murders by interlopers. Government buildings are the likeliest targets for terrorism, and financial and retail buildings the likeliest targets for non-political criminals, but all workplaces face at least some of these most severe risks. There's no way to eliminate these risks, but commonsense workplace security measures can reduce them. This note discusses approaches to evaluating and reinforcing security against external threats – which are important subsets of broader workplace violence prevention efforts.
Evaluate Organizational Risks
Worker safety agencies and others have spent years reviewing the motives and methods of different types of perpetrators of violence, distilling these assessments into risk factors for assessing potential sources of violence against organizations. In the United States, the National Institute for Occupational Safety and Health and other OSH agencies have developed a list of "risk factors" for a wide variety of workplace violence:
Contact with the public

Exchange of money

Delivery of passengers, goods, or services

Having a mobile workplace such as a taxicab or police cruiser

Working in health care, social service, or criminal justice settings (particularly with unstable or volatile persons)

Working alone or in small numbers

Working late at night or during early morning hours

Working in high-crime areas

Guarding valuable property or possessions

Working in community-based settings.
When the focus narrows to potential terrorism, the actual or symbolic meaning of the organization becomes more important. Last week's attack at the Canadian Parliament meets many of these criteria (although as of this writing the perpetrator's thought processes have not been divined):
Attract the most attention (World Trade Center, 1996 Atlanta Olympics, 2013 Boston Marathon)

Inflict major financial losses (World Trade Center)

Intimidate a specific chosen audience (murders of abortion doctors)

Harm the most people or destroy the most property (World Trade Center)

Strike a significant perceived threat to the terrorists (Pentagon, Oklahoma City Federal Building)

Heighten public sense of vulnerability (Boston Marathon).
Organizations should also consider whether their facilities or operations might be secondary targets (including government contractors), a collateral victim because of physical proximity to a primary target, or a source of materials that can be weaponized (e.g., hazardous chemicals).
Enhance Security Measures
Organizations can consider a variety of physical and procedural upgrades to address security hazards. Physical security measures might include:
Evaluation of the building's structural integrity—would it stand up to a blast?

Selection of glass and window frames—laminated or hardened glass is less likely to create spray shards, and frames that stay in place also reduce collateral damage (although they also hold in blast energy).

Employee access controls - key cards, log-in, and so on.

Employee identification—including photo-ID badges, at least in larger organizations.

Visitor log-in (with or without metal detectors), identification, and escort.

Protecting "interior vulnerable areas"—locking restrooms, closets and equipment rooms, medicine cabinets, etc.

Lobby design to ensure visibility—furniture without skirting, trash receptacles with screens, payphone stations without booths, etc.

Parking restrictions and monitoring.

Limits on outside shrubbery, which should be kept well trimmed.

Perimeter patrols, especially along fence lines, and in little-used areas.
Organizations should also pay close attention to the screening, hiring, and training of security personnel, who will be responsible for managing these measures and maintaining continuous alertness.
Self-Evaluation Checklist
Has the organization evaluated its security needs?
Has the organization determined the primary type of threats associated with its activities (vandalism, robbery, assaults, stalking, bombs, shootings, rapes)?

Is the organization a likely target for those with a political agenda?

Has the organization established its facilities' history of threats?

Has the organization evaluated the types of threats likely to be posed by:

Employees?

Suppliers?

Customers?

Outsiders?

Has the organization evaluated the types of threats related to work patterns (e.g., late night shifts)?
Has the organization evaluated security options at its location(s)?
Does the organization control access to its premises?

Controlled distribution of keys?

Keyless entry?

Video cameras?

Digital imaging?

Remote access?

Limits on exits, protections on windows?

Is the parking lot secure?

Well-illuminated at night?

Employee parking separated from public/customer parking?

Are loading docks kept closed and secured?

Does the organization greet/screen all visitors?
Are greeting/screening personnel provided with panic buttons and/or video monitoring?

Are all entrances well-illuminated?

Do employees have identification cards with pictures?

Are visitors provided identification? Escorts?

Is there an alarm system?

Do signs prominently announce that the system is in place?

Has alarm system monitoring been reviewed for possible enhancement?

Is there an after-hours security program?

Are escorts provided for employees leaving after hours?

Is there an emergency lock-down system?
Where Can I Go For More Information?
STP publishes Workplace Violence Prevention: A Practical Guide to Security on the Job and also publishes the following related guides:

About the Author

Jon Elliott is President of Touchstone Environmental and has been a major contributor to STP's product range for over 25 years. He was involved in developing 16 existing products, including Environmental Compliance: A Simplified National Guide and The Complete Guide to Environmental Law.
Mr. Elliott has a diverse educational background. In addition to his Juris Doctor (University of California, Boalt Hall School of Law, 1981), he holds a Master of Public Policy (Goldman School of Public Policy [GSPP], UC Berkeley, 1980), and a Bachelor of Science in Mechanical Engineering (Princeton University, 1977).
Mr. Elliott is active in professional and community organizations. In addition, he is a past chairman of the Board of Directors of the GSPP Alumni Association, and past member of the Executive Committee of the State Bar of California's Environmental Law Section (including past chair of its Legislative Committee).
You may contact Mr. Elliott directly at: tei@ix.netcom.com.