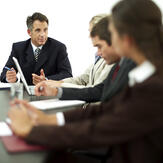 Many investors in small companies are generally aware that company directors owe shareholders "fiduciary duties," which they expect will protect their rights. (I discuss them in my ebook, and in my discussion of a 2013 decision). That's true as far as it goes, but investors need to remember that these duties can be clarified by state statutes that expand or reduce their traditional meaning, and can be over-ridden by a company's shareholders agreement. The influential Delaware Supreme Court issued a decision late last month, confirming that a plaintiff had bargained away her rights. Here's a summary of the case:
Blaustein v. Lord Baltimore Capital Corporation (Delaware Supreme Court, 1/21/14)
In 1999, Susan Blaustein purchased 15% of a closely-held Delaware corporation, Lord Baltimore Capital Corporation. Her sister Jeanne also bought 15%; the remaining 70% was held by members of the Thalheimer family led by Louis Thalheimer (all descend from founders of Amoco).
Susan would later claim that Louis made her oral promises of "significant regular and substantial dividend distributions," and the right to sell her shares for their full pro rata value after ten years. However, she also signed the corporation's Shareholder Agreement, including the following provision about sales:
Section 7(d). Notwithstanding any other provision of this Agreement, the Company may repurchase Shares upon terms and conditions agreeable to the Company and the Shareholder who owns the Shares to be repurchased provided that the repurchase is approved either (i) by a majority, being at least four, of all of the Directors of the Company then authorized (regardless of the number attending the meeting of the Board of Directors) at a duly called meeting of the Board of Directors or (ii) in writing by Shareholders who, in the aggregate, own of record or beneficially 70% or more of all Shares then issued and outstanding.
The Blausteins gained the right to appoint three directors, and the Thalheimers the other four. With these votes, unanimity among the Thalheimers would prevent a sale.
After 1999, the company, under Louis' direction, made a series of illiquid long-term investments that prevented substantial dividends. Susan began attempts to sell her shares in 2001, leading Louis to offer for the company to buy her shares for 52% of their pro rata value. He claimed the substantial discount was necessary to offset "investment dislocation" costs necessary to raise funds to make the purchase. Susan refused, but reopened discussions in 2009, after she had held her shares for a full ten years.
Louis again offered for the company to buy Susan's shares for 52% of their pro rata value. After further negotiations, during which the board of directors was briefed on the matter but never voted, Susan sued claiming his offer breached his oral promises, and that the company board violated its fiduciary duty of loyalty (i.e., to act in good faith and with fair dealing) to her as a shareholder. The board later formally rejected her counter-offers along a family-line vote with four against, but Susan amended her claim to allege that this belated vote was a sham.
In April 2013, the Delaware Court of Chancery found that the written limitations in Section 7(d) of the Shareholders' Agreement superseded any conflicting oral promise that Louis may or may not have made, and that it replaced the general fiduciary duty to act in good faith and with fair dealing with an explicit option to negotiate (noting the use of "may" in the text quoted above). Thus, Louis and the board violated no requirement when they delayed and eventually rejected her attempts to be bought out for more than the offered 52% of pro rata value. On further appeal, the Delaware Supreme Court affirmed this holding in January 2014.
What Are A Minority Shareholder's Rights?
The influential Delaware courts have not rejected traditional fiduciary duties, but this decision affirms yet again the courts' view that much of these generalized duties can be negotiated away and superseded in a company's articles of incorporation, bylaws, and shareholders agreement (for discussion of another recent Delaware decision, see my earlier blog). This view reaffirms that a minority shareholder should only count on rights set forth expressly in those documents, so should read them very carefully.
Self-Assessment Checklist
Do I know the traditional fiduciary duties owed by directors to their companies (and in some cases, to shareholders)?
Diligence

Loyalty

Obedience
Have I reviewed critical documents for each company with which I'm involved (as a founder, director, officer, or shareholder)?
Articles of incorporation

Bylaws

Shareholders agreement
Do I understand shareholders' rights with respect to the company and its directors (and conversely, company and director duties to shareholders)?
Do I Need More Information?
The Delaware Supreme Court decision (Blaustein v. Lord Baltimore Capital Corp.) is available here.
The underlying Delaware Court of Chancery decision (4/30/13), with more detailed discussion of the facts and legal principles, is available here.
Specialty Technical Publishers (STP) provides a variety of single-law and multi-law services, intended to facilitate clients' understanding of and compliance with requirements. These include:
About the Author

Jon Elliott is President of Touchstone Environmental and has been a major contributor to STP's product range for over 25 years. He was involved in developing 16 existing products,including The Complete Guide to Environmental Law and Securities Law.
Mr. Elliott has a diverse educational background. In addition to his Juris Doctor (University of California, Boalt Hall School of Law, 1981), he holds a Master of Public Policy (Goldman School of Public Policy [GSPP], UC Berkeley, 1980), and a Bachelor of Science in Mechanical Engineering (Princeton University, 1977).
Mr. Elliott is active in professional and community organizations. In addition, he is a past chairman of the Board of Directors of the GSPP Alumni Association, and past member of the Executive Committee of the State Bar of California's Environmental Law Section (including past chair of its Legislative Committee).
You may contact Mr. Elliott directly at: tei@ix.netcom.com.