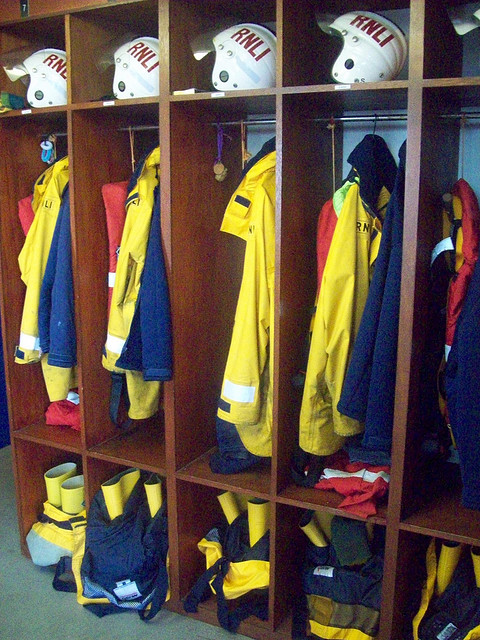 The Fair Labor Standards Act (FLSA) was first enacted in 1938, to ensure "fair pay" for American workers. Sixty-five years later, it is invoked most often when minimum wage and overtime premium pay are under discussion. But it also includes a number of important secondary provisions—including one requiring employers and employees to determine which time at the workplace is considered "work" that must be compensated, and which is not.
On January 27 the U.S. Supreme Court issued its latest opinion about when "changing clothes" is compensable work time, and when it isn't (Sandifer v. U.S. Steel Corp.). In the wake of this decision, employers and employees in unionized workplaces should review their formal agreements and informal "custom and practice" to ensure they're following the law.
What Does FLSA Provide?
FLSA applies to "time worked"—so it does not require payment for time not worked. This includes time when employees are not present, such as vacations, sick leave or holidays (federal or otherwise). These benefits are a matter of agreement between an employer and an employee (or the employee's representative).
FLSA also may exclude "any time spent in changing clothes or washing at the beginning or end of each workday which was excluded from measured working time during the week involved by the express terms of or by custom or practice under a bona fide collective-bargaining agreement applicable to the particular employee." Although negotiated contract terms are usually clear, interpretations of "custom and practice" continue to lead to litigation about what are called "donning and doffing" issues, including periodic decisions by the U.S. Supreme Court.
For example, in November 2005, the U.S. Supreme Court ruled employers must pay employees for time spent donning specialized protective equipment necessary to their jobs and walking between that location and their work area. However, in January's Sandifer decision the Supreme Court did not require payment for time to change into and out of street clothes, even when workplace clothing includes limited safety-related items such as safety glasses, earplugs and respirators.
What Was the Sandifer Case About?
Clifton Sandifer was a worker at one of U.S. Steel's plants, and brought a collective action along with other workers, claiming that the company had violated FLSA by not paying them for donning and doffing various items of protective gear. The company countered that the items were primarily "clothes" and that it owed nothing for time spent changing clothes. The actual list of items under discussion were: flame-retardant jacket, pair of pants; hood; a hardhat; a "snood"; wristlets; work gloves; leggings; "metatarsal" (i.e., steel-toed) boots; safety glasses; earplugs; and respirator.
The District Court found these to be "clothes" and dismissed the suit. On appeal, the Seventh Circuit Court of Appeals agreed. As of late January the Supreme Court also agreed, in a unanimous decision written by Justice Scalia.
The decision recounts the history of the FLSA provision under discussion, and its earlier decisions. It noted that FLSA and Department of Labor regulations do not define "clothes," and conducted a detailed analysis of that term, starting with dictionary definitions concurrent with the 1949 amendment to FLSA that added the provision. Based on this analysis, the court concluded that most of the listed items were "clothes", but that safety glasses, earplugs and respirators are not. It then decided that most of the time necessary to don or doff all these items would be spent on the "clothes," declined to draw a bright line about how much is enough, and decided in this case that the activities should be considered to be "changing clothes." Accordingly, the Court ruled, U.S. Steel owed nothing for these workers' time changing from street clothes to work clothes.
On the other hand, it looked back to its 2005 IBP decision and reaffirmed that the activities in that case were primarily about safety items, and so had properly required payment.
Self-Assessment Checklist
Together, the new Sandifer decision and the older IBP decision reinforce the need for employers and their employees to agree to provisions covering any change from street clothes, and if possible to enshrine those provisions in individual employment contracts and/or collective bargaining agreements.
Does my organization require employees to do any of the following before starting work:
Change out of their street clothes into work clothes (uniform, clean room garb, etc.)?

Add work clothes or personal protective equipment (PPE) (safety goggles, earplugs, etc)?
Do individual employment contracts and/or collective bargaining agreements specify whether employees will be paid for any or all of time spent before starting work—and time spent at the end of work returning to street clothes?
If not, do other documents at the workplace establish expectations that may qualify as the "custom or practice" regarding these activities (e.g., workplace hygiene, workplace safety, and/or standard operating procedures)?
Where Can I Go For More Information?
Specialty Technical Publishers (STP) provides a variety of single-law and multi-law services, intended to facilitate clients' understanding of and compliance with requirements. These include:
About the Author

Jon Elliott is President of Touchstone Environmental and has been a major contributor to STP's product range for over 25 years. He was involved in developing 16 existing products,including The Complete Guide to Environmental Law and Securities Law.
Mr. Elliott has a diverse educational background. In addition to his Juris Doctor (University of California, Boalt Hall School of Law, 1981), he holds a Master of Public Policy (Goldman School of Public Policy [GSPP], UC Berkeley, 1980), and a Bachelor of Science in Mechanical Engineering (Princeton University, 1977).
Mr. Elliott is active in professional and community organizations. In addition, he is a past chairman of the Board of Directors of the GSPP Alumni Association, and past member of the Executive Committee of the State Bar of California's Environmental Law Section (including past chair of its Legislative Committee).
You may contact Mr. Elliott directly at: tei@ix.netcom.com.