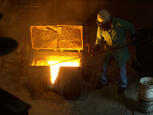 It's common knowledge now that lead is a systemic poison. Overexposure to it can damage our blood-forming, nervous, urinary and reproductive systems. In the past, lead was commonly added to industrial paints because of its characteristic corrosion resistance and color enhancement. Lead Poisoning Prevention Week takes place from October 20–26. Sponsored by the US Environmental Protection Agency (EPA), this year's event focuses on protecting children from exposure to lead. EPA and partner agencies such as HUD are helping raise awareness among parents of ways to combat lead poisoning, from monitoring children's consumption of certain types of imported candy to screening those most liable to be exposed to lead in the home.
Not just parents should be concerned, though. 29 CFR 1910.1025 (8 CCR 5198 in California) obligates employers to guard employees against workplace exposure to lead. Industries and enterprises with particularly high potential exposures include construction that involves welding, cutting, brazing, blasting, etc. on lead paint surfaces; most smelter operations, where lead is present either as a trace contaminant or as a major product; secondary lead smelters where lead is recovered from batteries; radiator repair shops; and firing ranges. The regulation requires employers to make initial determinations of employee exposure to lead, and to train and monitor employees in order to limit their lead exposure.
The California Department of Public Health recently issued a report, "Blood Lead Levels in California Workers, 2008–2011," stating that thousands of workers in the state are still vulnerable to lead overexposure, evidenced by elevated blood lead levels (BLLs). Unpublished data from the Occupational Lead Poisoning Prevention Program (OLPPP) revealed widely varying rates of BLL testing in five industries in which significant lead exposure is possible: 87% of battery manufacturers, 56% of non-ferrous foundries (lead-using), 14% of radiator repair (copper-brass), 8% of painting companies (licensed San Francisco painting contractors) and only 1% of wrecking and demolition companies were BLL testing.
Workers exposed to lead on the job may not be the only people whose health is affected: the report points out that in the counties with the highest numbers of workers with elevated BLLs, "children and pregnant woman living with these workers are at risk of take-home lead exposure and may need follow-up by local childhood lead poisoning prevention programs."
Make sure you have appropriate training and monitoring programs in place on your jobsite to comply with the lead standards. For more information, go to the OLPPP homepage or to the federal OSHA page on lead.
You can also see the Lead Poisoning Prevention Week website for more information.
STP has recently published an update to its publication California Training Requirements Compliance Guide