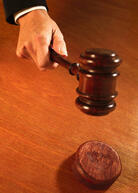 Persons over 40 years old form a protected class under the Age Discrimination in Employment Act (ADEA) of 1967. Although separate from Title VII of the Civil Rights Act of 1964, ADEA provides protections similar to those preventing discrimination based on sex, race and religion. It applies to each employer "engaged in commerce who has twenty or more employees for each working day in each of twenty or more calendar weeks in the current or preceding calendar year." It is administered by the Equal Employment Opportunity Commission (EEOC), which promulgates regulations and guidelines similar to those for Title VII and the Americans with Disabilities Act.
ADEA Safeguards
ADEA allows eligible employees to sue employers whose actions had produced disparate impacts on older workers, even absent discriminatory intent. It also allows suit, and provides expanded recovery, in cases where discriminatory intent is proven.
ADEA provides several employer defenses, describing legitimate bases for employment decisions affecting employees over 40. It is not unlawful for the employer to take any action where:
Age is a bona fide occupational qualification (BFOQ) reasonably necessary to the operation of the business.

Action is based on "reasonable factors other than age".

Action is taken in observance of a bona fide seniority system.

Action is taken in observance of a bona fide employee benefit plan.

Employer has good cause to discipline or discharge the employee.
In addition, as noted in a 2004 U.S. Supreme Court decision (General Dynamics Land Systems v. Cline), ADEA "forbids discriminatory preference for the young over the old [but does not prohibit] favoring the old over the young." Cases are inconsistent, but tend to disfavor employer practices that seem to favor 40-something employees over older employees, even though all are nominally eligible for the same ADEA protections.
Applying ADEA
As with other anti-discrimination laws, ADEA is applied in a broad spectrum of cases, from those involving obvious and intentional discrimination (where employers end up paying substantial penalties and/or damages), to those where the facts provide at least some support for an employer-defendant's claims that its actions qualify for the defenses noted above.
To illustrate how ADEA defenses and penalties are applied in real cases, consider Miller v. Raytheon Company, which was decided in mid-May by the Fifth Circuit Court of Appeals:
Richard Miller worked for Raytheon for almost three decades, primarily in supply chain management. In 2006, Miller was moved to a stand-alone role working on special projects, where he reported to Robert Lyells. Miller initially performed well in this position, but subsequently missed some deadlines and received a "Needs Improvement" rating on his 2007 mid-year review.
Raytheon initiated a reduction in force ("RIF") in early 2008. Raytheon required Lyells to evaluate his employees, subdivide them into "decisional units," rank them based on a four-factor analysis, and develop a list of employees to recommend for reduction. Lyells placed the then 53-year-old Miller in a decisional unit with four other employees (ages 34, 49, 54, and 55) considered for termination. In contrast, he placed a 46-year-old woman with similar job responsibilities in a decisional unit that was not considered for the RIF. Lyells later testified that he recommended Miller for layoff after determining that Miller's job function was non-essential and his duties could be absorbed by three other employees. Although Miller was purportedly targeted for the RIF due to a budgetary shortfall, at that time of the RIF Miller's job was not charged to Lyells's budget. The only employee in Miller's decisional unit not recommended for termination was the 34-year-old. Lyells offered that younger employee retraining and identified a new task for her.
Because Miller had more than twenty years of service, Lyells and Human Resources were directed to search for internal job opportunities for Miller. Lyells later reported he had contacted colleagues but was told there were no openings; Miller presented evidence at trial that he was qualified for several positions. Miller was terminated on March 13, 2008.
After searching unsuccessfully for new positions within Raytheon, Miller sued the company for age discrimination, under the ADEA and the Texas Commission on Human Rights Act. The jury rejected Raytheon's arguments that Miller was "RIFFed" based purely on business necessity and with the benefit of administrative protections afforded by age-neutral processes, and found that the company had willfully violated ADEA and the Texas act, by terminating him based on age and then failing to fairly consider him for another job because of his age. After the trial judge cut some damage awards and reduced Miller's requested attorney fees by thirty percent. Miller and Raytheon both appealed. The Court of Appeals made further adjustments, but after thorough analysis provided the following award, which reflects most of the categories available to an aggrieved employee under ADEA (and the Texas act as well):
$352,179 in back pay – doubled (as provided under ADEA) because of Raytheon's willful violation

$277,000 in pension benefits lost because he was terminated "early" – the Appeals Court treated this as prospective front pay rather than back pay and so ineligible for doubling

$0 for "mental anguish" (the jury had awarded $1 million, which the trial court judge had cut to $100,000)

$300,000 in punitive damages under the Texas act (affirming the level set by the trial court judge after cutting the $15 million award made by the jury)

Remanded front pay to the trial court judge to reconsider its $186,628 award given the adjustments made in other elements of the award

$488,437.08 in attorney fees, affirming the trial court's adjusted award.
In total, Raytheon has been ordered to pay Miller nearly $2 million for violating his rights as an over-40 employee. The company's elaborate system of procedures were found not to prevent its willful violations of ADEA – and the impression that these procedures were not followed in good faith added to the award.
Implementation Checklist
Do any of my organization's labor policies consider seniority?

If so, are they based on years of service to the organization, or on employee age?
Does the organization provide pension, health and/or other benefits?

If so, do they include any consideration of an individual employee's age, do such considerations comply with ADEA?

Does the organization have a policy prohibiting discrimination based on age, particularly for individuals older than 40?

If so, is it reflected in hiring policies and practices?

If so, is it reflected in personnel management, compensation and promotion policies and practices?

If so, is it reflected in layoff and termination policies and practices?

Does my organization provide training to supervisors and managers in legal duties to avoid discrimination based on age, the organization's policies to comply with these duties, and procedures in place to ensure compliance?

Has the organization evaluated its practice, including whether data covering hiring, compensation, promotion and/or terminations reflect possible age-based discrimination?
Where Can I Go For More Information?
About the Author

Jon Elliott is President of Touchstone Environmental and has been a major contributor to STP's product range for over 25 years. He was involved in developing 16 existing products,including Workplace Violence Prevention: A Practical Guide to Security on the Job and Directors' and Officers' Liability.
Mr. Elliott has a diverse educational background. In addition to his Juris Doctor (University of California, Boalt Hall School of Law, 1981), he holds a Master of Public Policy (Goldman School of Public Policy [GSPP], UC Berkeley, 1980), and a Bachelor of Science in Mechanical Engineering (Princeton University, 1977).
Mr. Elliott is active in professional and community organizations. In addition, he is a past chairman of the Board of Directors of the GSPP Alumni Association, and past member of the Executive Committee of the State Bar of California's Environmental Law Section (including past chair of its Legislative Committee).
You may contact Mr. Elliott directly at: tei@ix.netcom.com.
STP also publishes the following publications: