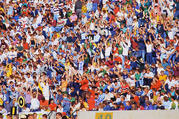 We've all just received a grim reminder how easily public celebrations can become public nightmares. Readers who may now be nervous about special events in their areas should know that law enforcement and security professionals have developed security protocols that formalize hazard assessment and management. One important template for such protocols was published in 2007 by the U.S. Department of Justice (DOJ) – Planning And Managing Security For Major Special Events: Guidelines for Law Enforcement.
These DOJ Guidelines are designed for use by law enforcement and security personnel for events of national significance – the Boston Marathon might qualify – so they envision long-term and resource-intensive preparations. But the same organizational framework can usefully be applied to smaller local events as well.
Threat and Risk Assessments
Security planning begins with an assessment of potential threats and hazards, which guide planning and resource priorities. The DOJ Guidelines cite eight factors used by the Federal Bureau of Investigation (FBI) when planning events:
Threat (including known threats to the specific event)

Historical, political, or symbolic significance

Duration

Location

Cultural, political, and religious backgrounds of attendees

Media coverage

Dignitaries attending.
With these factors in mind, planners are advised to:
Identify potential threats, including common crimes (robbery, assault, etc.), fires, vandalism, natural disasters, protests, terrorism, or gangs

Gauge potential damages from such threats (impact analysis)

Determine the likelihood that the problems will occur

Develop cost estimates and actions to prevent the threats.
Responsibility Areas
The Guidelines assume that a team will be gathered to plan and manage security for a special event. They provide detailed discussion of each of the following responsibility areas:
Determining and acquiring the security workforce (numbers, locations, duration, etc)

Communications and communication technology

Access control, including screening and physical security, which the Guidelines subdivide to provide for outer, middle and inner perimeters

Transportation/traffic control, including facilitation of event-related traffic and channeling or diversion of other traffic

Intelligence

Event credentialing

Administration and logistics support

Protecting critical infrastructure and utilities

Public health, fire and emergency medical services, for planned activities and incident-related

Hazardous materials and weapons of mass destruction: detection, response and management

Tactical support and crisis management

Public information and media relations

Training

Demonstrations and other crowd control issues.
Event management and post-event activities
The Guidelines discuss implementation of planned security measures during the special event, and recommend debriefings and critiques afterwards.
Implementation Checklist
Is the organization planning a special event?
Have basic logistics and chronology been determined?
Does the local jurisdiction require an event permit, and/or other coordination with relevant public agencies (law enforcement, fire, public services, etc.)?
Has coordination been established with local agencies?
Has a threat/risk assessment been conducted?
Have any general threats or risks been identified?
Have any event-specific threats or risks been identified?
Have probabilities and severity been assessed?
Is security planning underway?
Are internal organization resources involved?

Are external resources involved (law enforcement, private security, etc.)?
Has a security plan been developed, appropriate to the event and any associated threats or risks?
Where can I go for more information?
About the Author

Jon Elliott is President of Touchstone Environmental and has been a major contributor to STP's product range for over 25 years. He was involved in developing 16 existing products,including Workplace Violence Prevention: A Practical Guide to Security on the Job,Securities Law and Directors' and Officers' Liability.
Mr. Elliott has a diverse educational background. In addition to his Juris Doctor (University of California, Boalt Hall School of Law, 1981), he holds a Master of Public Policy (Goldman School of Public Policy [GSPP], UC Berkeley, 1980), and a Bachelor of Science in Mechanical Engineering (Princeton University, 1977).
Mr. Elliott is active in professional and community organizations. In addition, he is a past chairman of the Board of Directors of the GSPP Alumni Association, and past member of the Executive Committee of the State Bar of California's Environmental Law Section (including past chair of its Legislative Committee).
You may contact Mr. Elliott directly at: tei@ix.netcom.com.