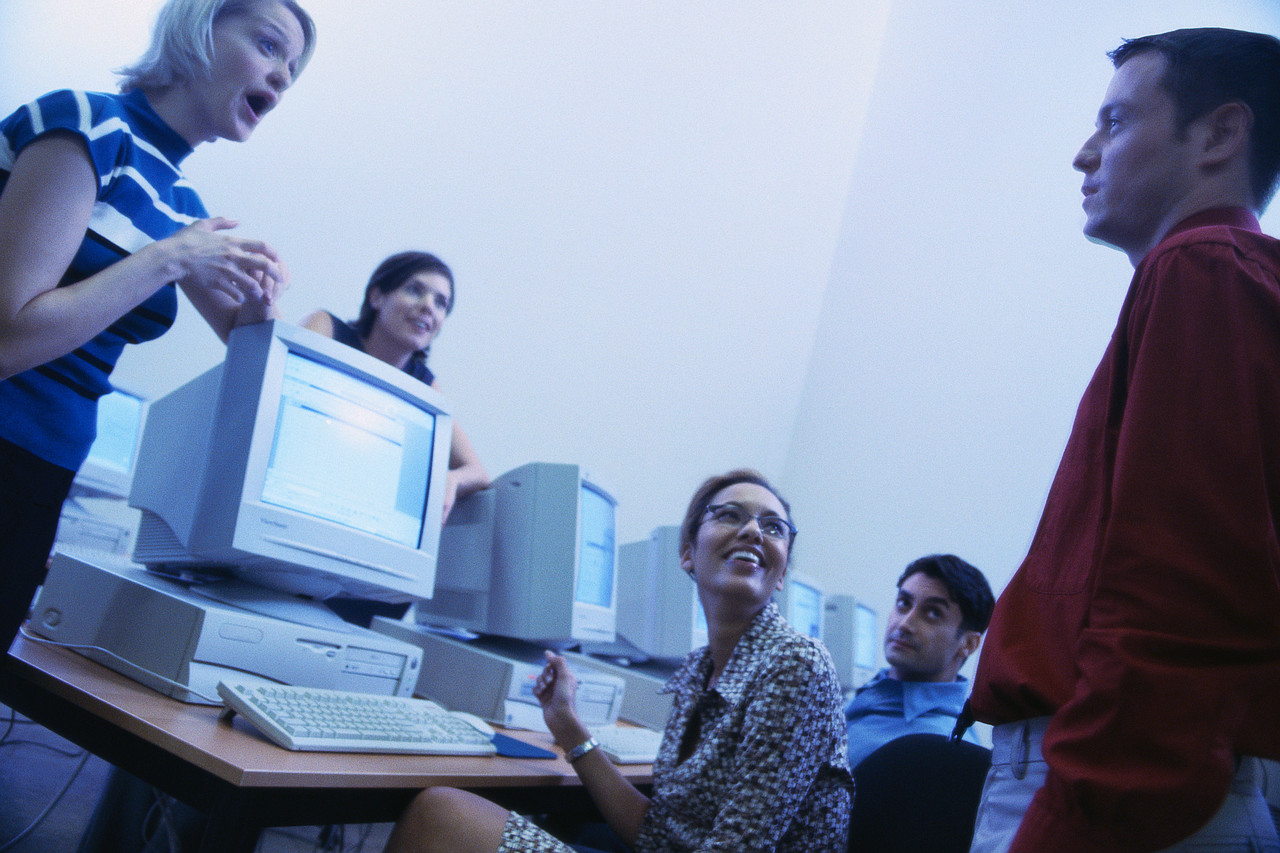 Everyone has relationships in the workplace. Many relationships are purely professional, while some add personal elements, and one or more may even be very personal. Anti-discrimination laws may impose scrutiny on any relationship where at least one person is a manager or supervisor, or the owner of a small enterprise. In the U.S. these include laws (including Title VII of the federal Civil Rights Act of 1964, and comparable state laws), regulations and enforcement guidelines (from by the Equal Employment Opportunity Commission (EEOC) and state equivalents), and court cases applying these standards. In Canada these include comparable human rights and occupational health and safety regimes.
By now everyone should be aware that hostile or negative relationships might imply discrimination, harassment, and/or a "hostile workplace," where wrongdoing is "based on sex." We also need to keep in mind that even positive relationships might run afoul of anti-discrimination prohibitions.
Sexual Aggression and Flirtation
One of the classic forms of sex discrimination is so-called quid pro quo linkage of sex and employment. It clearly covers straightforward and unwanted demands by supervisors for sexual favors from their staff members. Many cases decide that a supervisor who hints about sexual favors and reminds the target of his (or her) interest of their authority may amount to the same thing, depending on the supervisor's subtlety but often regardless of how the target responds (the 1992 Magnuson v. Peak Technical Services, Inc. decision is often cited for this proposition). A smaller number of cases directly address the opposite situation, approving as non-discriminatory the firing of employees who may disrupt the workplace by trying to sleep their way to the top, based on documented disciplinary violations. In both types of cases, clear lines become blurred when the signals are more subtle—for example, when does innocent flirtation become a hint, or casual friendliness interpreted as encouragement to something more? In closer cases agencies and courts apply "reasonable person" standards that inevitably lead to decisions that can appear inconsistent.
Personal Relationships in the Workplace
What if a sexual and/or romantic personal relationship does occur, between people with different ranks in the organization?
Coerced or consensual?
A host of cases arise after a workplace relationship ends. They can be complicated by questions about whether sexual relations were coerced or consensual (i.e., an office romance, or fling, gone sour). Sometimes these boil down to "he said, she said," although co-workers are often called to testify about what they saw, or what a party told them about the relationship. Even if there was mutuality, the court may still find a "hostile environment" existed, whether before, during, or after the liaison (for example, 2010's Turner v. The Saloon, Ltd. found harassment after the end of a consensual relationship).
Effects on Coworkers?
Even if a supervisor-subordinate relationship is truly consensual, it may still run afoul of anti-discrimination provisions. EEOC does not object to consensual intra-office relationships, and even allows for "isolated" instances of favoritism toward what the agency calls a "paramour." However, if supervisors provide "sexual favoritism" toward employees with whom they have liaisons, this may constitute discrimination against co-workers. Coworkers may infer a quid pro quo that omitted them, or may perceive a hostile environment during the relationship. And harassment may follow the end of a relationship. (EEOC has longstanding guidance on this set of situations).
Effects on Home?
Cases rarely involve effects on involved co-workers' home lives, unless those effects rebound on the workplace because a non-involved spouse is also employed by the firm, or a breakup triggers morale and efficiency problems with an involved spouse, or workplace violence ensues. However, lines of cases address relationships in small workplaces, where the supervisor may be the onsite manager or even the owner. They generally arise when the boss's spouse does not merely insist that he or she end the relationship, but that the workplace paramour be fired. Readers may be surprised to learn that the paramour tends to lose in cases claiming to have been unjustly fired by a repentant boss, because agencies and courts reason that the firing was not "because of sex" (because that term means gender bias, not intercourse) but because the fired employee engaged in behavior inappropriate in the workplace, so that subsequent firing is bad form but not discrimination (for example, 2006's Tenge v. Phillips Modern Ag Co.)
Workplace Relationships in Which Nothing Happens
Sometimes cases arise even when no sexual or romantic relationship actually occurs. Just as an obnoxious "alpha male" boss can create a hostile workplace through bullying, a boss who's a "lover not a fighter" can create a hostile workplace by flirtation or innuendo, or because of rumors that hurt the workplace. These cases most often involve situations where the target of attention feels harassed, but can also include situations where non-flirtatious and unengaged co-workers believe they suffer from severe sexualizing of the workplace, or suffer because of favoritism toward those who do engage.
Finally, readers may be very surprised to learn that cases allow the small-enterprise boss to fire an employee who is "too attractive," even when no relationship occurred, if pressured to do so by his or her spouse. For example, the Supreme Court of Iowa just reaffirmed such a firing as non-discriminatory, in a decision issued last month (Nelson v. James H. Knight DDS, PC).
Employer Preventive Measures
What's an employer to do? Many employers discourage office relationships, and some formalize their disapproval in "non-fraternization policies." Other employers require "love contracts" between the employees, providing expectations and dispute resolution provisions during and after a relationship. Employers considering any such policies should design them carefully, including consideration of applicable state privacy laws.
Implementation Checklist
Has your organization established a formal policy prohibiting discrimination in the workplace based on sex?
Does it identify common forms of discrimination (e.g., quid pro quo, hostile environment)?

Does the organization provide training?

Does the organization provide reporting and response mechanisms?
Has your organization established a formal policy governing non-professional relationships between employees?
Does it distinguish between relationships based on the participants' levels in the organization – between peers, between employees of different levels, involving any employee at or above some specified level in the organization?

Does it distinguish relationships between individuals in the same reporting chain, from those in different reporting chains?

Is the organization neutral so long as professional decorum is maintained in the workplace, does it discourage such relationships, or does it prohibit such relationships?

Does it direct employees to report their relationship to specified personnel (e.g., supervisor, HR)?

Does it direct employees to sign a hold-harmless agreement with the organization (e.g., a "love contract?)

If the organization discourages or prohibits workplace relationships, does it set forth clear disciplinary procedures and possible outcomes?
Does your organize implement and enforce these policies uniformly?
Are implementation and enforcement documented with sufficient detail and specificity to be useful if a claim of discrimination arises?
Where Can I Go For More Information?
EEOC provides extensive information on sexual discrimination and harassment on its website

EEOC also maintains a webpage listing what it refers to as (state and local) Fair Employment Practice Agencies (FEPAs) and Tribal Employment Rights Offices (TEROs), at www.eeoc.gov/field/sanfrancisco/fepa.cfm

The Canadian Association of Statutory Human Rights Agencies (CASHRA) provides agency contacts and other information, at

www.cashra.ca
About the Author

Jon Elliott is President of Touchstone Environmental and has been a major contributor to STP's product range for over 25 years. He was involved in developing 16 existing products,including Workplace Violence Prevention: A Practical Guide to Security on the Job, Securities Law and Directors' and Officers' Liability.
Mr. Elliott has a diverse educational background. In addition to his Juris Doctor (University of California, Boalt Hall School of Law, 1981), he holds a Master of Public Policy (Goldman School of Public Policy [GSPP], UC Berkeley, 1980), and a Bachelor of Science in Mechanical Engineering (Princeton University, 1977).
Mr. Elliott is active in professional and community organizations. In addition, he is a past chairman of the Board of Directors of the GSPP Alumni Association, and past member of the Executive Committee of the State Bar of California's Environmental Law Section (including past chair of its Legislative Committee).
You may contact Mr. Elliott directly at: tei@ix.netcom.com.