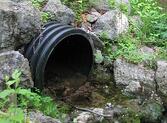 Although federal and California regulations have introduced numeric effluent limits (NELs) for stormwater discharges, technical issues and an adverse regulatory environment have stalled these efforts. Here is a summary of stormwater regulatory history, and the current regulatory atmosphere.
Background
In 1987 Congress amended the Clean Water Act to mandate the control of stormwater discharges in municipal, industrial, and construction arenas. In 1990 the United States Environmental Protection Agency (USEPA) first issued regulations defining stormwater discharges as point source discharges, subject to a broad array of pollution control requirements under the National Pollutant Discharge Elimination System (NPDES).

As most environmental professionals know, under its stormwater regulations, USEPA requires mandatory implementation of certain best management practices (BMPs). USEPA also requires reporting of stormwater discharge constituents to established USEPA "benchmark" values, known as water quality-based effluent limits (WQBELs). When stormwater discharges contain constituents in excess of the benchmark values, the discharger must review and revise the selection, design, installation, and implementation of control measures, and complete appropriate corrective actions to prevent recurrence of the exceedance.
A November 2002 memo from USEPA recommended setting discharge limits as BMPs, with numeric limits to be used "only in rare instances." The use of BMPs and iterative monitoring to manage stormwater seemed firmly established.
A New Course
In September 2009, California pioneered the use of NELs in its general construction stormwater permit. By December of 2009, USEPA appeared to follow California's lead when issuing a new construction and development point source category rule. This rule established nationally-applicable effluent limitation guidelines (ELGs), and new source performance standards to NPDES permits covering stormwater discharges from construction sites, including best management practices and the first-ever numeric limit for turbidity.
The USEPA construction point source category rule was quickly challenged in a lawsuit by industry groups, and an administrative review petition by the Small Business Administration Office of Advocacy, which argued that the turbidity limit was flawed. On November 5, 2010, the USEPA stayed the numeric effluent component of the construction point source category rule, pending a re-evaluation of turbidity data used during the development of the rule.
Nonetheless, a memo of November 2010 that revised the 2002 memo, illustrates USEPA's changing perspective on NELs. Since "expectations have changed as the stormwater permit program has matured . . . permits for MS4s and/or small construction stormwater discharges should contain numeric effluent limitations . . . as these types of effluent limitations create objective and accountable means for controlling stormwater discharges."
This memo also spurred a strong response from the regulated community, which became further concerned when in January 2011 California issued a new draft general permit for stormwater discharges from industrial activities that also included NELs.
Hitting the Brakes
The apparent introduction of NELs to stormwater discharges had significant setbacks in the latter half of 2011. In California, the newly-created Senate Select Committee on California Job Creation and Retention focused its attention on the draft general permit for industrial activities. The committee scolded the state agency responsible for drafting the permit, claiming that it greatly increased regulatory costs, conflicted with newly enacted tax measures, and was created with little stakeholder input.
In December 2011, a California Superior Court invalidated the NELs established in the general permit for construction activities adopted in 2009. The Court found that NELs had been developed without sufficient scientific evidence; therefore, the state had not complied with federal laws when it established the limits in the permit. (Some observers felt that the Court was influenced by USEPA's recent stay of NELs.)
Furthermore, NELs were absent from USEPA's final issue of its new general construction permit in February 2012, because the agency "is still in the process of collecting data to support the recalculation of the numeric turbidity limit."
An Uncertain Future
When and if NELs will be established for storm water discharges by USEPA remains to be seen. In California, often a regulatory bellwether, proposed legislation revises state water agency permit issuance procedures, and prohibits the establishment of more stringent storm water effluent standards than the provisions in the Federal Clean Water Pollution Control Act, until January 1, 2017.
The establishment of NELs for storm water discharges will most likely remain controversial for some time.
Martin Bermudez, CHMM, is an STC Senior Program Director with over 20 years of experience in environmental, health and safety (EHS) regulatory compliance and management system development and implementation. His experience ranges from performing focused projects in chemical process safety management, hazardous waste management, facility closures, and EHS program risk assessments to broad-based projects in environmental management information system design and management system evaluation. Martin's clients include various industries—telecommunications, mining, medical devices, biotechnology, apparel, pharmaceutical, semiconductor, paint and coating, industrial tool manufacturing, automotive parts manufacturing, and electronic product assembly—in the U.S., Canada, and Mexico. He has evaluated and developed stormwater pollution prevention plans for transportation, industrial manufacturing, residential development, and automobile dismantling sites.
To learn more about STC's stormwater compliance management services, contact Martin at (510) 909-5460 or via email at mbermudez@stcenv.com