"The care of human life and happiness, and not their destruction, is the first and only object of good government."
Thomas Jefferson
Thomas Jefferson was a very smart man. Perhaps though, his view of the purpose of government has been lost over time. Very recently there has been much discussion on the economic damages inflicted by the federal government related to the regulatory burden that industry faces in the United States. Although these discussions are not solely limited to environmental regulatory burdens, many do believe that the pendulum has swung too far in controlling industrial operations and their air, water, and waste discharges. I am not one of those individuals. Yes, the Cuyahoga River in Cleveland no longer catches fire. And Pittsburgh's success as a city is no longer defined by the smoke being emitted from the stacks of its steel industry plants. And the hidden Love Canal surprises are hopefully behind us. Yet, there continues to be noteworthy cases of major environmental incidents and non-compliances across the nation. The 2015 Volkswagen "clean diesel" scandal is only one of many. Did you know that every single year for the past 20 years the U.S. Department of Justice has charged some 200 to 300 individuals with committing environmental crimes? That might not seem like many but in total these are criminal charges against over 5,000 individuals, not simply civil charges for exceeding permit limits or discharge standards.
One could logically ask the question – Where does the U.S. stand today with regard to environmental regulations and enforcement as the country experiences a new presidential administration with an uncertain regulatory philosophy and strategy? Are we indeed better off and is it time to take the foot off the gas or is there still much work that needs to be done? Recent regulatory and enforcement data released by the U.S. EPA help us to better understand where we are presently as a country and where we might be headed.
U.S. Federal Environmental Regulations Continue to Grow
Each year the U.S. Government publishes the Code of Federal Regulations (CFRs), effective on July 1st of that year. The individual volumes for each year are usually available in January or February of the following year. The EPA is responsible for Title 40 of that Code. In early 2016, the EPA released the 2015 CFRs effective July 1, 2015. The total page count for EPA in 2015 was over 26,000 pages, the largest on record and a 10% increase over a 5-year period. Will this growth continue or has it peaked? The publication of the 2016 CFR early 2017 will help to answer that question.
One way to anticipate the answer to the regulatory growth question for the coming year is to take a look at the Agency's Semi-Annual Regulatory Agenda, which was last released on November 17, 2016 (as part of the Executive Branch's Unified Agenda) in the Federal Register. This is a spring and fall requirement for all regulatory agenciesi . In November the EPA listed 203 additional regulations (not pages, but individual regulations) that either had been recently promulgated (but not yet codified) or were under development.
Eventually, all of these new regulations will be added to Title 40, suggesting that there is no end in sight to regulatory growth. It is very interesting to note, as depicted in the chart below, that each of EPA's Semi-Annual Regulatory Agendas from 1999 to 2011 listed somewhere between 350 and 450 regulations under development, a consistency that is stunning. This means that for over a decade, there were always around 400 regulations under development on the docket. Interestingly, there has been a dramatic reduction in the number of regulations listed to roughly 200 from years 2012 to 2016. Maybe the regulatory pipeline is beginning to empty.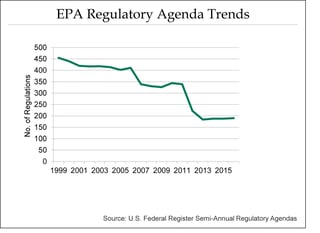 Perhaps more significantly, on January 18, 2011 President Obama issued Executive Order 13563, "Improving Regulation and Regulatory Review". The Order required a government-wide review of existing rules "to remove outdated regulations that stifle job creation and make our economy less competitive. It's a review that will help bring order to regulations that have become a patchwork of overlapping rules…" ii At long last, there reportedly was a governmentwide review of existing regulations to determine those that should be eliminated. The recent U.S. EPA Regulatory Agendas and the lower growth of regulations in the most recent Title 40 CFR seem to confirm that the Executive Order might be having the intended impact.
The distribution of the type of regulations being considered is an interesting facet of the trends as well. Note in the chart below that 52%, or 106, of the total regulations under development in November 2016 were devoted to Clean Air Act (CAA) regulations.
There are currently over 17,100 pages of federal CAA regulations already on the books in the last codified version of Title 40 of the CFR. The bottom line is that federal air regulations are massive and in all likelihood will increase in volume. Will more regulations help to reduce air pollution or help to clarify existing requirements? Hard to say.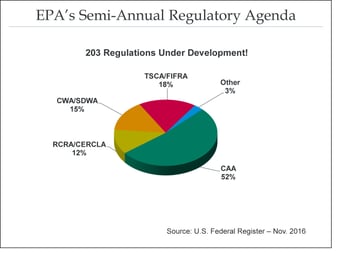 Yes, There Are Still Regulatory Gaps
In spite of the fact that there are now over 26 thousand pages of federal environmental regulations, there remain some additional risks and vulnerabilities that have yet to be addressed appropriately at the federal level. Three of those that have surfaced on environmental audits of industrial facilities over the past 30 years are:
Water Storage Tanks. For large firewater and other water supply aboveground storage tanks, there is no requirement for tank integrity testing or secondary containment protections. These tanks are often located adjacent to electrical substations and transformers in utility areas where a tank breach could short out the entire electrical system of the site and possibly the surrounding community. And history tells us that large volumes of unexpected water releases can do considerable damage to facility equipment. In 2011 a tsunami disabled the backup generators at the Fukushima, Japan nuclear power plant resulting in a meltdown of three nuclear reactors. One global consumer products company has recognized this water storage issue as an unacceptable risk and has developed a corporate standard that requires secondary containment for all above ground storage tanks worldwide.

Hazardous Waste Storage. Hazardous waste stored at 90-day accumulation areas require only that drums and containers be labeled, physically intact, and inspected weekly. Surprisingly there is no federal requirement that containers be placed on an impervious surface incorporating secondary containment protections. Thus, a pretty much unlimited amount of containers and drums holding hazardous waste can be stored directly on the ground for up to 3 months at these locations. Several states, including Massachusetts, have recognized this as a gap and require additional protections such as secondary containment for accumulations areas.

Accidental Discharges of Hazardous Substances. Spill Prevention, Control and Countermeasure (SPCC) Planning requirements promulgated under Section 112.7 of the Clean Water Act regulations are designed to prevent the accidental release of only oil-containing substances into the nation's waters. Facilities subject to the regulations must develop an SPCC Plan that is certified by a Professional Engineer and must provide appropriate containment and/or diversionary structures or equipment to prevent a discharge of oil. New Jersey is one state that has recognized that regulating only oil in this way is a gap and has promulgated Discharge Prevention, Containment and Countermeasure (DPCC) regulations that cover not only oil but numerous other hazardous substances.
There are certainly other gaps as well and also existing regulations that require additional clarification. A great example of the need for clarification are the "weekly", "monthly", and "annual" requirements found in many environmental regulations. Be assured that there have been many lively discussions among site staff, regulators and auditors over whether "annual" means every 12 months or once a year. There is a big difference in these two interpretations.
U.S. EPA Enforcement Activity Remains Substantial
The EPA has had a substantial enforcement program throughout its history. EPA's current Enforcement budget is approximately 10% of its total $8.1 billion budget and, for comparison purposes, is 35% more than the entire budget of the Occupational Safety and Health Administration (OSHA). On December 19th, the EPA released its enforcement results for fiscal year 2016, which ended on September 30, 2016.iii Included in those results were data on administrative, civil judicial penalties, and criminal fines assessed.
As shown in the chart below, EPA issued $5.8 billion in civil and criminal penalties in FY2016, the most ever in history. However, the great majority of the penalties issued were due to a $5.6 billion settlement with BP Exploration & Production for Clean Water Act violations stemming from the April 20, 2010 Deepwater Horizon blowout and subsequent oil spill. Note further that the 2013 penalty amount of approximately $2.6 billion was impacted significantly by billion dollar penalties against Transocean and BP, again for the Deepwater Horizon incident.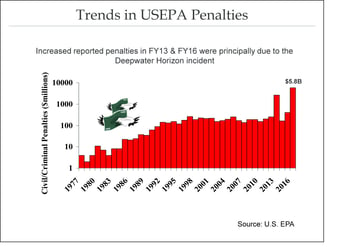 Notwithstanding the two Deepwater Horizon enforcement actions in 2013 and 2016, on average, over the past ten years the EPA has issued approximately $200 million in civil and criminal monetary penalties each year. This should be viewed together with the over 5,000 individuals that have been charged with environmental crimes by the DOJ over the past 20 years. These numbers are not inconsequential. And with almost a billion dollars being spent annually by EPA on enforcement, environmental noncompliance remains a serious issue, unmatched by any other country. As EPA has stated in its FY 2013 OECA National Program Manager Guidance, we will "aggressively go after pollution problems that make a difference in communities. EPA will use vigorous civil and criminal enforcement that targets the most serious water, air and chemical hazards, as well as advance environmental justice by protecting vulnerable communities".iv
The Cautionary Tale of December 2016
So where does that leave us? Should there be a continuing emphasis on environmental regulatory compliance and enforcement or should we indeed take the foot off the gas as some would propose. Well, if the fortnight in the middle of December 2016 tells us anything, this is not the time to ease up. Take note of the following headlines taken from that very short and very recent period:
DuPont agrees to pay $50 million in natural resource damages to resolve claims stemming from the release of mercury in the 1930's and 1940's from its Waynesboro, VA plant (December 16th).

Michigan's Attorney General brings more criminal charges over the Flint, Michigan water crisis, including felony charges against two former state appointees and two former city officials (December 20th).

Volkswagen reaches $1 billion deal with the USDOJ and California in the ongoing diesel emissions scandal (December 21st).

A federal jury finds DuPont liable for $2 million in compensatory damages for an individual's cancer stemming from the dumping of Teflon manufacturing chemicals (C8) into the Ohio River. An additional 3,500 cases are pending (December 21st).

Shell Oil will pay $22 million to the city of Clovis, California for chemical (TCP) found in drinking water supply (December 27th).
Frankly, it's hard to believe that all five of these incidents occurred over a two-week period in the last month of 2016. They suggest that the U.S. is nowhere near where it needs to be with respect to the environment. Continuing oversight is needed and both public and private sector institutions need to be held accountable for meeting, if not exceeding, regulatory requirements.
Note: This article is an update of: Cahill, L.B., "U.S. EHS Regulatory Trends in 2016," EHS Journal, January 31, 2016.
About the Author
Lawrence B. Cahill, CPEA (Master Certification) is a Technical Director with Environmental Resources Management and has over 35 years of professional environmental experience with industry and consulting. He is the editor and principal author of the widely used text, Environmental, Health and Safety Audits, 9th Edition and its 2015 follow-up text EHS Audits: A Compendium of Thoughts and Trends, both published by Bernan Press. He has published over 80 articles and has been quoted in numerous publications including the New York Times and the Wall Street Journal. Mr. Cahill has worked in over 25 countries during his career. He holds a B.S. in Mechanical Engineering from Northeastern University where he was elected to Pi Tau Sigma, the International Mechanical Engineering Honor Society. He also holds an M.S. in Environmental Health Engineering from the McCormick School of Engineering and Applied Science of Northwestern University, and an MBA from the Wharton School of the University of Pennsylvania. Mr. Cahill is a member of the Alumni Advisory Group of the Wharton Initiative for Global Environmental Leadership (IGEL). He is a Certified Professional Environmental Auditor, Master Certification.
References
i The Regulatory Flexibility Act and Executive Order 12,866 require Spring and Fall Regulatory Agendas.
iiObama, Barak, "Toward a 21st-Century Regulatory System", Wall Street Journal, January 18, 2011.
iiiU.S. Environmental Protection Agency, "Fiscal Year 2016 EPA Enforcement and Compliance Annual Results," Office of Enforcement and Compliance Assurance, December 19, 2016.
ivU.S. Environmental Protection Agency, FY 2013 Office of Enforcement and Compliance Assurance (OECA), National Program Manager (NPM) Guidance, April 30, 2012, p. 6
Specialty Technical Publishers (STP) provides a variety of single-law and multi-law services, intended to facilitate clients' understanding of and compliance with requirements. These include: