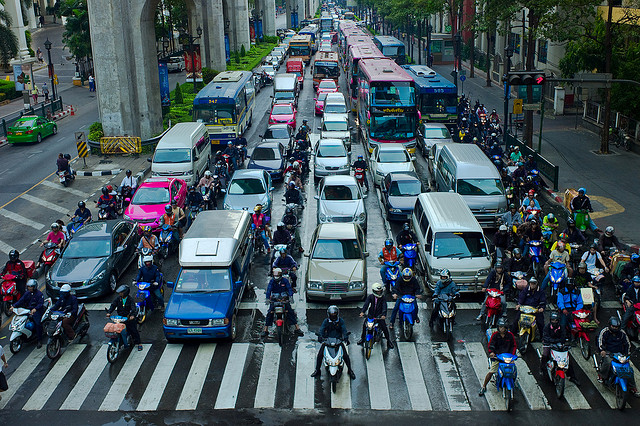 Should transportation companies disclose information about the environmental footprint of their fuel use? What about information on accidents and safety management? Often, the answer is yes. In fact, any company must, under U.S. SEC rules, provide such non-financial information in its financial statements, if the information would materially affect a reasonable investor's assessment of the value of the company. As investors increasingly focus on measures of a company's sustainability—its environmental and social performance—the pressure to disclose this information in financial statements grows. The challenge for companies lies in identifying exactly which sustainability information is material, and how to report it.
For the transportation sector, the job of determining what to disclose has just become easier, thanks to new standards issued by the Sustainability Accounting Standards Board (SASB). The provisional Sustainability Accounting Standards for Transportation Industries identify industry-specific sustainability disclosure topics and provide guidelines for the following eight industries:
Automobiles

Auto Parts

Car Rental & Leasing

Airlines

Air Freight & Logistics

Marine Transportation

Rail Transportation

Road Transportation
As noted in the SASB's September 24 press release, the standards "address environmental, social, and governance (ESG) issues most likely to contain material information for companies in Transportation industries."
Other SASB standards are already in place for the health care, financial, technology & communications, and non-renewable resources sectors. Draft standards have been developed for the services and "resource transformation" sectors. New standards are still to be developed for the "consumption," renewable resources & alternative energy, and infrastructure sectors. A schedule showing the specific industries in each sector and the status of each standard is posted on the SASB website.
Choosing Transportation Sustainability Topics
SASB standards aim to ensure that companies provide decision-useful information to investors. Accordingly, for each industry, the SASB chooses those sustainability topics that may be material for all companies in the industry. Each standard is based on research, industry consultation, and application of a set of strict principles to ensure that disclosures are relevant, measurable, and comparable.
This process has yielded specific material sustainability topics for the transportation sector as follows:
Road Transportation:

Environmental Footprint of Fuel Use

Accidents & Safety Management

Driver Working Conditions

Rail Transportation:

Environmental Footprint of Fuel Use

Accidents & Safety Management

Competitive Behavior

Marine Transportation:

Environmental Footprint of Fuel Use

Ecological Impacts

Accidents & Safety Management

Business Ethics

Airlines:

Environmental Footprint of Fuel Use

Accidents & Safety Management

Labor Relations

Competitive Behavior

Air Freight & Logistics:

Environmental Footprint of Fuel Use

Accidents & Safety Management

Fair Labor Practices

Supply Chain Management

Automobiles:

Fuel Economy & Use-phase Emissions

Materials Efficiency & Recycling

Materials Sourcing

Product Safety

Labor Relations

Auto Parts:

Energy Management

Materials Efficiency & Waste Management

Product Lifecycle Management

Materials Sourcing

Product Safety

Competitive Behavior

Car Rental & Leasing:

Fleet Fuel Economy & Utilization

Customer Safety
Each of these topics is to be assessed on the basis its effect on the value of the company, and not on environmental, social, or governance performance per se. But, by highlighting the financial impact of poor performance as evidenced by, say, spills of hazardous materials, high GHG emissions, accidents, or poor working conditions, the new SASB transportation standards may spur effort toward increased sustainability.
Other Frameworks: CDP, GHG Protocol, GRI, IIRC
SASB standards are narrowly focused in the sense that they are industry-specific and intended to support mandatory disclosures in U.S. SEC filings. But they draw on other existing standards, frameworks, and data as much as possible, aiming to be part of the effort to harmonize global standards for sustainability reporting.
For example, the SASB uses Carbon Disclosure Project (CDP) data to help determine the materiality of climate change-related topics in the standards for specific industries. The CDP promotes the disclosure of greenhouse gas (GHG) emissions by corporations worldwide and encourages emissions reductions through programs for governments, investor groups, and corporations. Its Climate Disclosure Standards Board (CDSB) has a framework for reporting climate change-related information that is compatible with International Financial Reporting Standards (IFRS). Elements of CDP and CDSB guidance are referenced in SASB standards.
Also, like the CDSB and many other organizations, the SASB incorporates the Greenhouse Gas Protocol (GHG Protocol), developed by the World Resources Institute and World Business Council on Sustainable Development, into its standards.
The Global Reporting Initiative (GRI), through its G4 Sustainability Reporting Guidelines, provides a more general framework for voluntary reporting on sustainability issues to a wide range of stakeholders. Similarly, the International Integrated Reporting Committee (IIRC) offers a voluntary framework for reporting on broader sustainability issues, but results are provided in integrated periodic reports aimed at investors. Reporting under GRI guidance or the IIRC framework would complement industry-specific disclosures made in SEC filings according to SASB standards.
Implications for Transportation Companies
While transportation companies are not legally required to follow the new SASB standards for transportation sector sustainability disclosures, they should consider doing so. After all, the standards identify items that may have to be disclosed in any event under the SEC's general requirement for disclosure of material issues. Also, if the SEC ultimately approves these standards, which are designed to meet SEC reporting criteria, they would become mandatory for industry participants. Consider that two members of the SASB board of directors, Mary Schapiro and Elisse Walter, are former chairs of the SEC. Similar disclosures may become the norm even for private companies.
The SASB standards' focus on ESG issues serves to remind transportation companies of the importance of reducing environmental and social risks in their operations. At a basic level, that includes diligently maintaining compliance with environmental, transportation safety, occupational health and safety, and labor regulations issued by such agencies as the Federal Motor Carrier Safety Administration (FMCSA), the National Transportation Safety Board (NTSB), the Pipeline and Hazardous Materials Safety Administration (PHMSA), the Environmental Protection Agency (EPA), and the Occupational Safety and Health Administration (OSHA).
More broadly, it means measuring the company's social and environmental impacts; anticipating public perception, investor reaction, and regulatory responses; and having effective long-term management plans in place.
STP has recently issued an update to its publication DOT Hazardous Materials Transportation & Motor Carrier Safety: Federal Regulatory Guide and also publishes the following related guides: