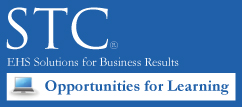 Striving to meet wastewater compliance limits? Your treatment processes are only as good as the operators running your facilities—which is why every state and Puerto Rico have set specific operator certification standards for wastewater treatment plants. Do you know your state's requirements for:
The categories of industrial pretreatment plants and NPDES-permitted treatment plants that require certified operators?

Responsibilities for different classes of operators?

Responsibilities for the owners of wastewater treatment plants?

Processes for obtaining classification?
STP has always answered these questions in the Environmental State Differences Guide. Now this material has been integrated into the Environmental State Differences Checklists, providing you with detailed breakdowns of the state's requirements at the appropriate time in your audit. No need to pause your investigation and look elsewhere for state information. The state requirements are conveniently laid out within the audit protocol itself, available for review before, during, or after your audit check. As with all audit protocol content, the state material is available in checklist format, allowing you to determine whether state requirements apply to your facility and confirm compliance of each requirement on the spot.

Operator certification requirements integrated into wastewater audit checklists—another tool helping you understand regulatory requirements better and leading to satisfactory audit outcomes, as prepared by the knowledgeable and experienced environmental professionals at Specialty Technical Consultants (STC).
Available with Release number 134, due for publication in November 2014.