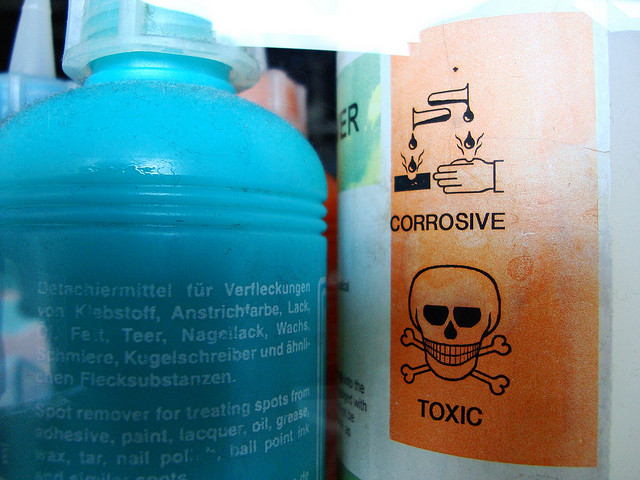 Employers that have hazardous chemicals in their workplaces are required by OSHA's Hazard Communication Standard (HCS), 29 CFR 1910.1200, to implement a hazard communication program. The program must include labels on containers of hazardous chemicals, safety data sheets (SDSs) for hazardous chemicals, and training for workers, and the employer must describe in a written program how it will meet the requirements of the HCS in each of these areas. Employers can implement an effective hazard communication program by following these six steps: learn the standard and identify responsible staff; prepare and implement a written hazard communication program; ensure containers are labeled; maintain Safety Data Sheets (SDSs); inform and train employees; and evaluate and reassess your program.
Learn more about the six steps to creating an effective hazard communication program here.
Avoiding Classification Shock
"A key requirement of OSHA's newly revised Hazard Communication Standard (HazCom 2012) is that chemical manufacturers and distributors operating in the United States classify their chemicals using criteria adopted from the United Nations' Globally Harmonized System (GHS). For many manufacturers and distributors, the results of the classification (or reclassification, in the case of chemicals already in the marketplace) can be startling. At MSDSonline, our safety data sheet authors have coined a new term to describe the experience: 'Classification Shock.'
Classification shock is the realization that a chemical is more hazardous than once thought, either because of the new classifications OSHA has put in place or, in many cases, because the hazards were not evaluated properly the first time.…
…The best way for chemical manufacturers, distributors, and even employers to avoid classification shock is to get educated on GHS and HazCom 2012 and stay out in front of HazCom deadlines. The bottom line is that HazCom is a communication standard. The more information all parties have, the more consistent the information is across products and the better decisions everyone in the life cycle of hazardous chemicals will be able to make. Also, there is a lot of help available to those safety professionals who want it, including help classifying chemicals, authoring and managing safety data sheets, and training employees. This is not a road that employers or others must walk alone."
Read the full article, "Newest HazCom Chemical Hazard: GHS Classification Shock," written by Glenn D. Trout, Oct 1, 2013.
STP has recently published an update to its publication OSHA Auditing: Federal Compliance Guide: Facilities and also publishes the following related guides: