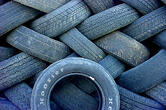 Do you know about these changes? Do you know their effective dates? Is your company ready to comply with each and every change? If your answer to any of these is "no", or you have no idea what this alert is about, you'll want to see the Federal Register notice that announced and described these changes. A copy can be found here.
Safety Sells
If you are a manufacturer or dealer of vehicles you already know that safety is a number one priority for your customers. Car buyers rely on dealers and manufacturers to provide accurate and comprehensive vehicle data to make informed purchases. The National Highway Transportation Safety Administration (NHTSA) makes it easy for you to educate consumers on how to compare vehicle safety ratings and features. NHTSA provides an online toolkit featuring a variety of marketing resources that can be tailored to fit your needs and printed on-demand; these materials include factsheets, media templates, decals, banners, and logos.
How Safe Are Your Tires?
Proper tire pressure is the most important part of maintaining your tires. Under inflation and overloading are major causes of tire failure. Just looking at your tires isn't enough to adequately determine tire condition; inspecting your tires monthly and using a proper tire gauge are a couple of ways to ensure proper condition is maintained. Click here to learn more about tire pressure and loading limits, ratings, labelling, and other information about tire safety and maintenance.
Safety and Maintenance Requirements for Hybrid and Electric Vehicles
Hybrid electric vehicles (HEVs) and plug-in hybrid electric vehicles (PHEVs) have internal combustion engines and therefore the requirements for safety and maintenance are similar to those of conventional vehicles; all-electric vehicles (EVs) typically require less maintenance. Manufacturers of these vehicles publish guides with maintenance and safety in mind, including emergency response guides for emergency responders. For publications, tools, and further information related to alternative and renewable fuels, advanced vehicles, and other fuel-saving measures, visit the U.S. Department of Energy Alternative Fuels Data Center (AFDC).
STP has recently published an update to Vehicle Maintenance Facilities:A Federal Compliance Guide and also publishes the following related guides: