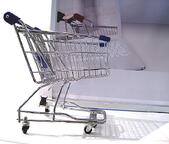 Jane Brown, an avid online shopper in New Mexico, is delighted to find just the candleholders she needs on discounted sale on LuvLee Living, a home décor website based out of New York. She orders a pair, but when the package arrives, she feels they are not as described on the website. She attempts to return them, but is told by LuvLee that sale items are "as is" and non-returnable as per their website's terms of use. Brown protests that she did not agree to any such terms. LuvLee responds that their terms of use are posted on the site and can be viewed by clicking a link. By browsing the LuvLee Living site, the retailer contends, Brown agreed to the terms of use. Further, should Brown wish to pursue the matter, she will be bound by arbitration under New York jurisdiction, even though she resides far from New York, because such stipulation was also in the terms of use.
LuvLee is relying on their "browse-wrap" agreement, an agreement whereby a website owner seeks to bind website users to terms and conditions by merely posting the terms somewhere on the website and making the terms accessible through a hyperlink. The website user does not have to click anything in order to accept the terms, and could, in fact, be completely unaware of the terms while browsing the site. In contrast, a "clickwrap" agreement requires users to expressly manifest asset to the terms by, for example, clicking an 'I accept' button.
Case law has made it clear that browse-wrap agreements are valid only if the website provides notice of the terms of the contract. In January 2012, Zappos.com, a large online retailer of shoes and clothing learned they could not rely on a "browse-wrap" agreement to protect the company from a class action suit filed by users whose personal data was compromised during a security breach at Zappos. The company attempted to send the lawsuits to arbitration based on its user agreement, a browse-wrap agreement. The court held that agreement unenforceable, saying:
"The Terms of Use is inconspicuous, buried in the middle to bottom of every Zappos.com webpage among other links, and the website never directs a user to the Terms of Use. No reasonable user would have reason to click on the Terms of Use….where, as here, there is no acceptance by Plaintiffs, no meeting of the minds, and no manifestation of assent, there is no contract…. A court cannot compel a party to arbitrate where that party has not previously agreed to arbitrate….The advent of the internet has not changed the basic requirements of a contract, and there is no agreement where there is no acceptance, no meeting of the minds, and no manifestation of assent. A party cannot assent to terms of which it has no knowledge or constructive notice."
It is clear from the Zappos decision that courts are unlikely to accept browse-wrap agreements as enforceable contracts. Website owners who seek to bind site visitors to terms of use or terms of service should not rely on such passive acceptance of their terms and should require that site users actively accept terms by clicking on an "I accept" button or some other similar device.
STP has recently published an update to Internet Law: The Complete Guide.