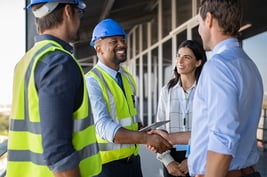 Is your organization hiring "temp" workers this summer—to gear back up after COVID-19, meet seasonal demand from tourists or other customers, or maybe just to fill in while permanent workers take vacations? Most employers recognize that occupational safety and health laws throughout North America assign them an Employer's General Duty to protect their own employees from workplace hazards. Some don't remember that this duty also applies to shared employees, and even to other employers' employees while they're at your workplace. This month, the US Occupational Safety and Health Administration (OSHA) is re-emphasizing ongoing efforts to ensure protections for temporary workers ("temps"), pointing to its Temporary Worker Initiative (started in 2013), and extending its "Ambassador Alliance" with the American Staffing Association (started in 2014; ASA is a professional association that describes itself as "the voice of the U.S. staffing, recruiting, and workforce solutions industry").
Who are Temporary Workers and their employers?
OSHA applies the following definition and directions for purposes of this Initiative:
"Temporary workers" are workers supplied to a host employer and paid by a staffing agency, whether or not the job is actually temporary. Whether temporary or permanent, all workers always have a right to a safe and healthy workplace. The staffing agency and the staffing agency's client (the host employer) are joint employers of temporary workers and, therefore, both are responsible for providing and maintaining a safe work environment for those workers. The staffing agency and the host employer must work together to ensure that the Occupational Safety and Health Act of 1970 (the OSH Act) requirements are fully met.
Temporary employees retain their full and fundamental rights to workplace safety, despite the complications. As "joint employers", the temp agency and the host employer share responsibility for these workers.
How Does OSHA Expect Joint Employers to Protect Temp Workers?
OSHA holds staffing agencies and host employers to be jointly responsible for maintaining a safe work environment for their temporary workers - including, for example, OSHA's training, hazard communication, and recordkeeping requirements.
OSHA could hold both the host and temporary employers responsible for the violative condition(s) - and that can include lack of adequate training regarding workplace hazards. Temporary staffing agencies and host employers share control over the worker, and are therefore jointly responsible for temporary workers' safety and health. However, OSHA guidance focuses on the hazards that each employer's position to
prevent and correct hazards, and

comply with OSHA standards applicable to the workplace and the employees' activities
For example, OSHA notes that staffing agencies might provide general safety and health training, and host employers provide specific training tailored to the particular workplace equipment/hazards. OSHA states that:
"The key is communication between the agency and the host to ensure that the necessary protections are provided.

Staffing agencies have a duty to inquire into the conditions of their workers' assigned workplaces. They must ensure that they are sending workers to a safe workplace.

Ignorance of hazards is not an excuse.

Staffing agencies need not become experts on specific workplace hazards, but they should determine what conditions exist at their client (host) agencies, what hazards may be encountered, and how best to ensure protection for the temporary workers.

The staffing agency has the duty to inquire and verify that the host has fulfilled its responsibilities for a safe workplace.

And, just as important: Host employers must treat temporary workers like any other workers in terms of training and safety and health protections."
In offering these observations, OSHA also expresses its concerns that
some employers may use temporary workers as a way to avoid meeting all their compliance obligations;

temporary workers get placed in a variety of jobs, including the most hazardous jobs;

temporary workers are more vulnerable to workplace safety and health hazards and retaliation than workers in traditional employment relationships; and

temporary workers are often not given adequate safety and health training or explanations of their duties by either the temporary staffing agency or the host employer.
What targeted guidance does OSHA provide?
In addition to these general observations, OSHA publishes a growing series of bulletins with targeted information keyed to specific OSHA standards. Temporary Worker Initiative bulletins cover each of the following:
Bloodborne Pathogens

Exposure to Outdoor and Indoor Heat-Related Hazards

Hazard Communication

Hazardous Energy (Lockout/Tagout)

Injury and Illness Recordkeeping Requirements

Noise Exposure and Hearing Conservation

Personal Protective Equipment

Powered Industrial Truck Training

Respiratory Protection

Safety and Health Training

Shipyard Employment

Whistleblower Protection Rights
What happens now?
OSHA's reaffirmation of its attention to temporary workers does not add any new policies or responsibilities. However, it's a reminder about these issues; although organization that frequently employ temp workers should have incorporated these issues into their normal business operations, organizations that rarely use temp workers need to be ready to comply with these requirements whenever they do provide temporary supplements to their permanent work forces.
Self-Evaluation Checklist
Does my organization employ any temporary workers?
If so, is it a host employer with temps onsite?

If so, is it a staffing agency that sends temps to other employers' worksites?
Is each temporary worker covered by a contract between the staffing agency and the host employer?
If so, does the contract address occupational safety and health responsibilities?
Have both employers evaluated workplace hazards, and the training, personal protective equipment (PPE) and other measures needed for temp workers safety?
Has each employer reviewed the other's training and other programs, to verify their existences and ensure their effectiveness?
Has either employer conducted an independent evaluation of the other's hazard evaluations and/or programs?
Have the employers established mutual information and reporting procedures, to keep each other informed of developments?
Are processes in place to ensure each temp worker actually receives stipulated training and equipment?
If any temp worker has suffered an occupational injury or illness, were stipulated procedures followed and documented?
Where Can I Go For More Information?
- Protecting Temporary Workers webpage
- Memorandum, Protecting the Safety and Health of Temporary Workers (4/29/13, as amended)
About the Author

Jon Elliott is President of Touchstone Environmental and has been a major contributor to STP's product range for over 30 years.

Mr. Elliott has a diverse educational background. In addition to his Juris Doctor (University of California, Boalt Hall School of Law, 1981), he holds a Master of Public Policy (Goldman School of Public Policy [GSPP], UC Berkeley, 1980), and a Bachelor of Science in Mechanical Engineering (Princeton University, 1977).

Mr. Elliott is active in professional and community organizations. In addition, he is a past chairman of the Board of Directors of the GSPP Alumni Association, and past member of the Executive Committee of the State Bar of California's Environmental Law Section (including past chair of its Legislative Committee).
You may contact Mr. Elliott directly at: tei@ix.netcom.com