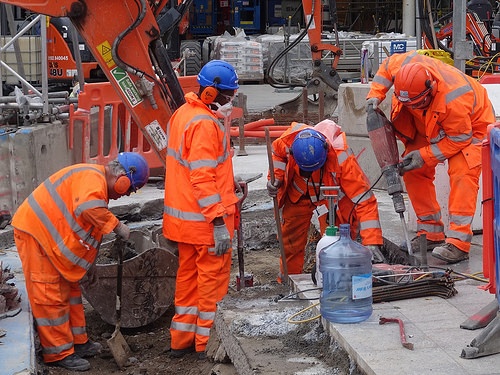 If someone receives occupational direction and/or compensation from more than one entity, then who's the boss? Sometimes it's obviously one or the other, sometimes it's not clear which one is, and sometimes the answer may be "both." The answer has important implications, not just for who writes a paycheck but for who is subject to legal requirements and prohibitions under federal, state and local laws. The National Labor Relations Board (NLRB) upended established definitions in 2015, in a decision that Browning-Ferris Industries of California (BFI) was a joint employer with the company (Leadpoint Business Services) that provided employees who worked at one of BFI's sanitary landfills, since BFI reserved the right to intervene in a variety of labor decisions. By a party-line 3:2 vote (with Democrats in the majority) NLRB "restated" agency and judicial precedent and found that the two companies were indeed joint employers, which realigned the employees' access to collective bargaining (NLRB's area of jurisdiction). The other two members dissented vociferously, for a variety of reasons.
After the BFI decision, employer groups and many Republican legislators argued that the correct standard was actual control not potential control, and that the majority was abandoning the common law approaches it claimed to follow. Early in December 2017, the U.S. House of Representatives passed legislation to write a definition of "joint employer" into the National Labor Relations Act (NLRA), in order to reverse this expansive interpretation (HR 3441, the "Save Local Business Act"). However, on December 14 the NLRB – now with a 3:2 Republican majority after President Trump filled two intervening vacancies – voted on a party line vote to rescind the BFI case analysis and return to an actual control test. The new decision is in Hy-Brand Industrial Contractors, Ltd. and Brandt Construction Co., as a single employer and/or joint employers. The remainder of this note discusses the issue and this decision, which probably resolves the issue … until the next election that changes the balance of power again.
Who Can Be a "Joint Employer" Under the NLRA?
The NLRA does not presently include a statutory definition of "joint employer" (or even "employer", for that matter, other than to clarify that "any person acting as an agent of an employer" is also considered an employer (29 USC § 152(2))). In the absence of a statutory definition, NLRB and courts look to other labor laws and the "common law" when considering whether an employer-employee relationship exists. This case-specific review allows flexibility to adapt policies to changing workplace realities, but also means that guidance can be unclear and tends to vary with the opinions of a majority of the five NLRB Board members.
Read More