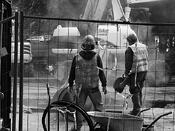 In September I blogged about OSHA's Airborne Contaminant Standard, which sets ambient air limits for over 400 workplace air contaminants to protect employees from exposures to airborne chemical and particulate contaminants in workplace air. In October, OSHA issued an extensive Request for Information (RFI), asking for comments on a variety of approaches to setting these limits in the future. In the RFI, OSHA notes that most exposure limits date from 1971, and so they don't reflect four decades of advances in understanding of chemical toxicology. OSHA is attempting to build on legal requirements for standard-setting developed by court cases since 1971, and to update—the agency doesn't say finesse—some of the limitations. The RFI asks over 50 questions, and solicits comments no later than April 8, 2015.
How Does OSHA Interpret Its Legal Authority To Set Standards?
The RFI presents OSHA's summary of its administrative authority and limits, which parse decades of court decisions to require that workplace health standard adopted by OSHA must meet the following requirements:
The standard must substantially reduce a significant risk of material harm.

It must be technically feasible for employers to comply. This means that the protective measures required by the standard currently exist, can be brought into existence with available technology, or can be created with technology that can reasonably be developed.

It must be economically feasible for employers to comply. This means that the standard will not threaten the industry's long term profitability or substantially alter its competitive structure.

The standard must reduce worker's adverse health risk to the extent feasible.

The standard must be supported by substantial evidence in the record, either consistent with prior agency practice or supported by some justification for departing from prior practice.
OSHA applies specific requirements and many rules-of-thumb developed from the court decisions.
OSHA Is Seeking Comments On Risk Assessment Methods
OSHA develops quantitative risk estimate models for hazards under consideration—in this case, workplace air contaminants. It reviews exposure and response data, statistical analyses, and other inputs. The RFI presents 9 questions about whether its present approach remains appropriate, whether interested parties apply different approaches to their own risk estimates, and how they evaluate different potential sources of information (organizations such as NIOSH or ACGIH, specific methodologies, etc.).
OSHA Is Seeking Comments On Considerations Of Technical Feasibility
OSHA generally considers whether risk assessments and controls are technically feasible on an industry-by-industry basis, rather than an employer-by-employer basis. This involves investigations of how materials are used in target industries, and on each industry's technical capacities. The RFI presents 12 questions about how to assemble industry profiles, including appropriate organizational partners and technical resources, appropriate levels of detail (sub-industries, different size businesses, etc.), and the appropriateness of generalizing from specific categories of information.
OSHA Is Seeking Comments On Considerations Of Economic Feasibility
OSHA also generally considers potential controls on an industry-by-industry basis, and sometimes varies its approaches to reflect generalizations about particular industries (such as use of sand-blasting, welding, or other higher-exposure activities). The RFI presents 10 questions about broad approaches (process-oriented versus material-based approaches, considerations of process and/or input changes to use less-hazardous materials or methods, etc.), and about the appropriateness of more-and less-tailored approaches.
OSHA Is Seeking Comments About How Recent Developments Might Supersede Traditional Approaches
OSHA notes that the internet has greatly expanded access to information, about chemicals and activities and procedures involving chemicals. This includes specialized information from various professions (toxicology, economics, engineering, etc.), alternative materials management and regulatory approaches from diverse industries and jurisdictions, etc. The RFI asks 8 questions about sources and applications of such information.
OSHA Is Seeking Comments About Alternative Conceptual Approaches To Controlling Exposures And Hazards
Throughout the RFI, OSHA describes its ongoing/traditional approaches to workplace hazards and controls. It notes, however, that other environmental, health and safety (EH&S) agencies sometimes take different approaches, and that industrial and professional groups continue to develop new models. The RFI asks 15 questions about the availability and potential applicability to OSHA's regulations of these alternatives.
Self-Evaluation Checklist
Does the organization have any workplace in which any air contaminants may be present (based on reviews of materials purchasing and inventories, for example), including any:
Volatile chemicals (solvents, etc.).

Metal dusts or fumes.

Other "nuisance dusts".
Does the organization have any workplace subject to OSHA standards governing use of and/or exposure to hazardous chemicals and materials?
Have monitoring and/or controls been instituted to comply with such standards?
Does the organization have any workplace subject to other EH&S requirements to identify, monitor, evaluate and/or control use of, and exposure to, chemicals?
Based on its activities and experience, does the organization have any expertise or opinions about approaches to management of airborne contaminants in workplaces?
Does the organization have a basis for concluding that changes to OSHA's present approaches might produce better outcomes?

If so, is the organization prepared to offer comments to OSHA's RFI?
Where Can I Go For More Information?
Specialty Technical Publishers (STP) provides a variety of single-law and multi-law services, intended to facilitate clients' understanding of and compliance with requirements. These include:
About the Author

Jon Elliott is President of Touchstone Environmental and has been a major contributor to STP's product range for over 25 years. He was involved in developing 16 existing products, including Environmental Compliance: A Simplified National Guide and The Complete Guide to Environmental Law.
Mr. Elliott has a diverse educational background. In addition to his Juris Doctor (University of California, Boalt Hall School of Law, 1981), he holds a Master of Public Policy (Goldman School of Public Policy [GSPP], UC Berkeley, 1980), and a Bachelor of Science in Mechanical Engineering (Princeton University, 1977).
Mr. Elliott is active in professional and community organizations. In addition, he is a past chairman of the Board of Directors of the GSPP Alumni Association, and past member of the Executive Committee of the State Bar of California's Environmental Law Section (including past chair of its Legislative Committee).
You may contact Mr. Elliott directly at: tei@ix.netcom.com.