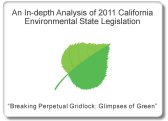 A free report authored by Gary Lucks is now available from Specialty Technical Publishers. The 23-page 2011 California Environmental Legislative Year in Review provides a comprehensive synopsis and analysis of the 2011 environmental legislation enacted by the state of California. This comprehensive report covers the California Environmental Quality Act (CEQA), energy, land use, climate change solid waste, hazardous waste and materials, storage tanks, and water quality. Download the Free Report Now. The following is the introduction to the report:
"Governor Brown set the tone for breaking the enduring gridlock in Sacramento by tackling the structural budget deficit head on. Governor Brown declared and reaffirmed the existence of a fiscal emergency, triggering another extraordinary legislative session to address the problem. He championed a controversial strategy of abolishing the state's approximately 400 redevelopment agencies to save approximately $1.7 million annually.
The Governor signed AB X1 26 (Blumenfield), which is one of two budget trailer bills fashioned to revamp the state's programs governing redevelopment projects for cities and counties. California's redevelopment agencies were originally established to combat urban blight. This urgency law took a knife to these agencies and dissolved them as of October 1, 2011. The law also suspends the functions of the agencies and prohibits them from taking on indebtedness while establishing a process to wind down their operations. In December, 2011, California Supreme Court upheld this new law (see California Redevelopment Agency v. Matosantos Case number S194861).
Another law — AB X1 27 (Blumenfield) — was intended to establish an alternative voluntary program allowing redevelopment agencies to continue functioning providing the agencies were to make voluntary payments to the state. This law was struck down by the Supreme Court in California Redevelopment Agency v. Matosantos (supra).
Although the Governor did not succeed in fully resolving the state's fiscal challenges, he was less encumbered than the previous administration in enacting more environmental policies. In his first year as Governor in almost two decades, Governor Brown signed into law 760 bills, allowed one bill to become law without signature, and vetoed 128. He enacted a number of environmental policies including significant laws affecting energy, solid waste, and the California Environmental Quality Act (CEQA)."
About the Author
Gary A. Lucks, JD, CPEA, is a partner in the Performance and Assurance Practice of ERM West in Walnut Creek, California, where he advises clients on multimedia environmental regulatory compliance, auditing, and sustainability. He is a certified professional environmental auditor and regular instructor at the University of California (U.C.) Berkeley and U.C. Davis Extension Program where he teaches courses on environmental law, legislation, auditing, compliance, and sustainability. He currently serves as an advisor to the Bay Area Air Quality Management District and on the California State Bar Environmental Legislation Committee. He also chairs the West Coast Auditing Round- table. Mr. Lucks has published numerous articles and newsletters addressing environmental legislation and policy. He is the coauthor of a book entitled: California Environmental Law and Policy: A Practical Guide and is co-founder of the Sustainable Earth Initiative (SEI), a non-profit organization dedicated to helping businesses and government become more sustainable through local actions.